In this post, I am breaking down the pricing of Gohighlevel.
Starting with the Basic Account, the Agency Unlimited Account, and also the Pro Account, and if you wanted to build an agency for yourself what are some of the costs associated with that.

Let's start breaking it down.

Taking a look at the High Level homepage we can see the pricing.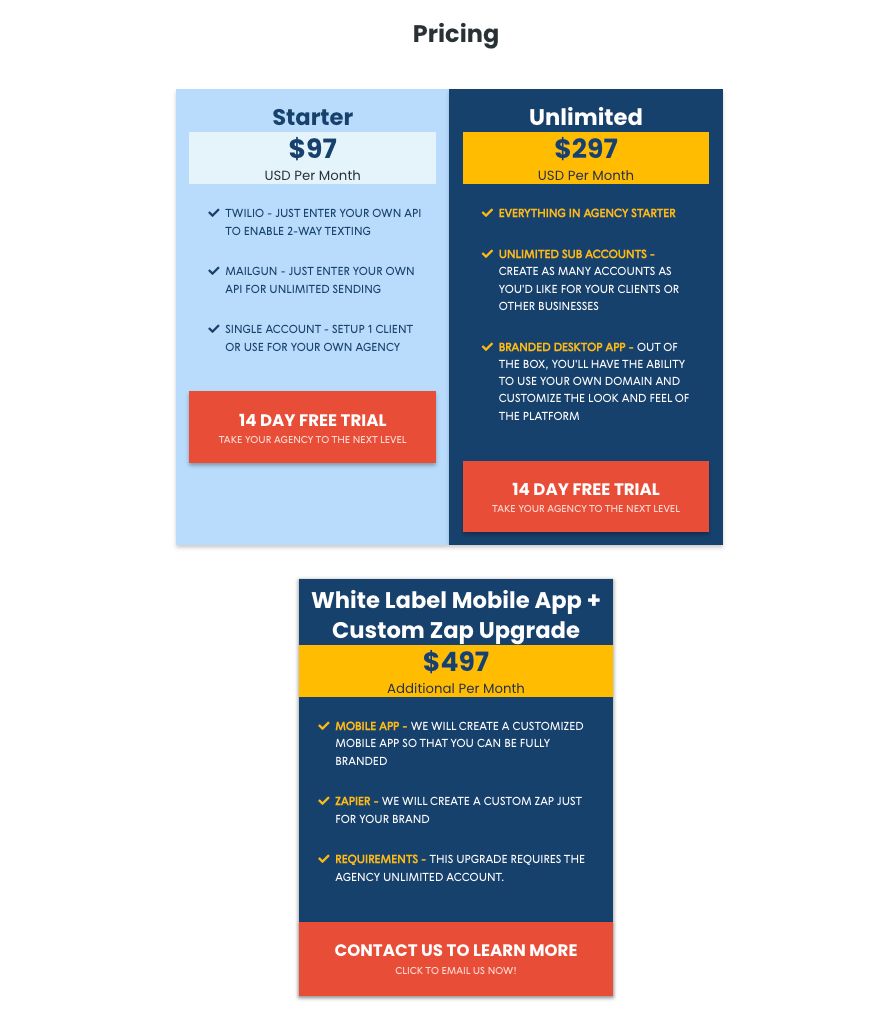 There are three levels of accounts:
The first is an Agency Starter Account which is $97 a month.

There is the Agency Unlimited for $297.

Then there is the Agency Pro or Sass Mode and it is $497 a month.
The difference between the first two.

The Agency Starter account enables you to have two accounts for yourself.
They are both unlimited. You can have unlimited domains, unlimited funnels and websites, contacts, emails, and a membership area with unlimited courses.
All of it is unlimited.
You do have to add your own Twilio add your own SMTP server or you can use LC Mail and LC Phone.

These enable you to send and receive phone, SMS, and email. Go High Level's phone and email services are better priced.

This is very very enticing because most of the software out there is not unlimited for everything.
Go High Level also allows you to cancel many other pieces of software because it is so all-inclusive.
Calendar

CRM

Funnel Builder

Website Builder

WordPress hosting

Automations

Forms

Surveys

Pipelines

Reputation Management

Social Planner

Affiliate Manager

Membership Area

Conversation Management

Reporting

Chat Widget

So much more

All for a $97 price tag.
Do you prefer to watch? Jump over to my YouTube channel.
Interested in learning how to create another revenue stream with white-labeled software.
This is my FREE signature course to get you started on the path to building your SaaS Business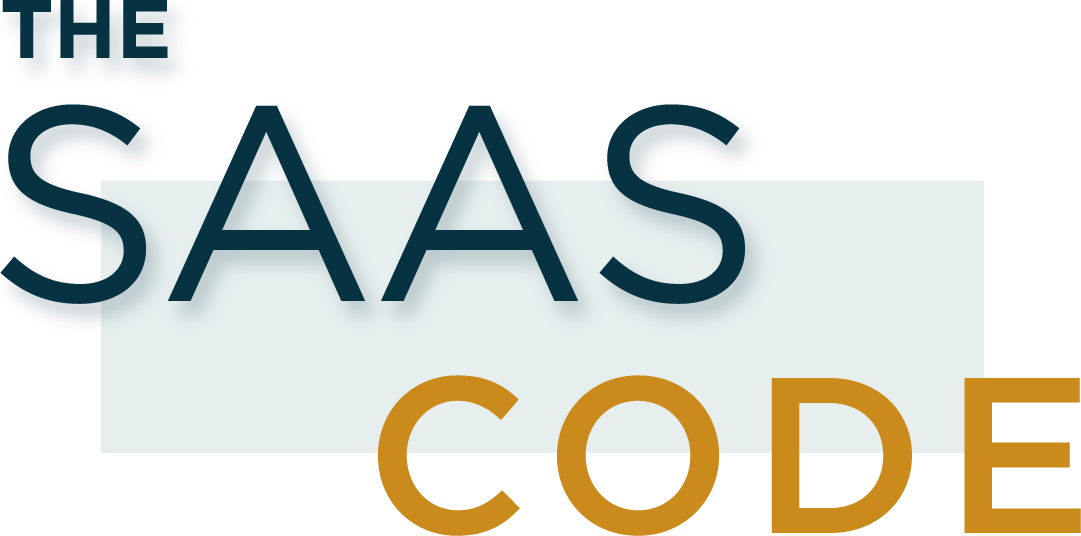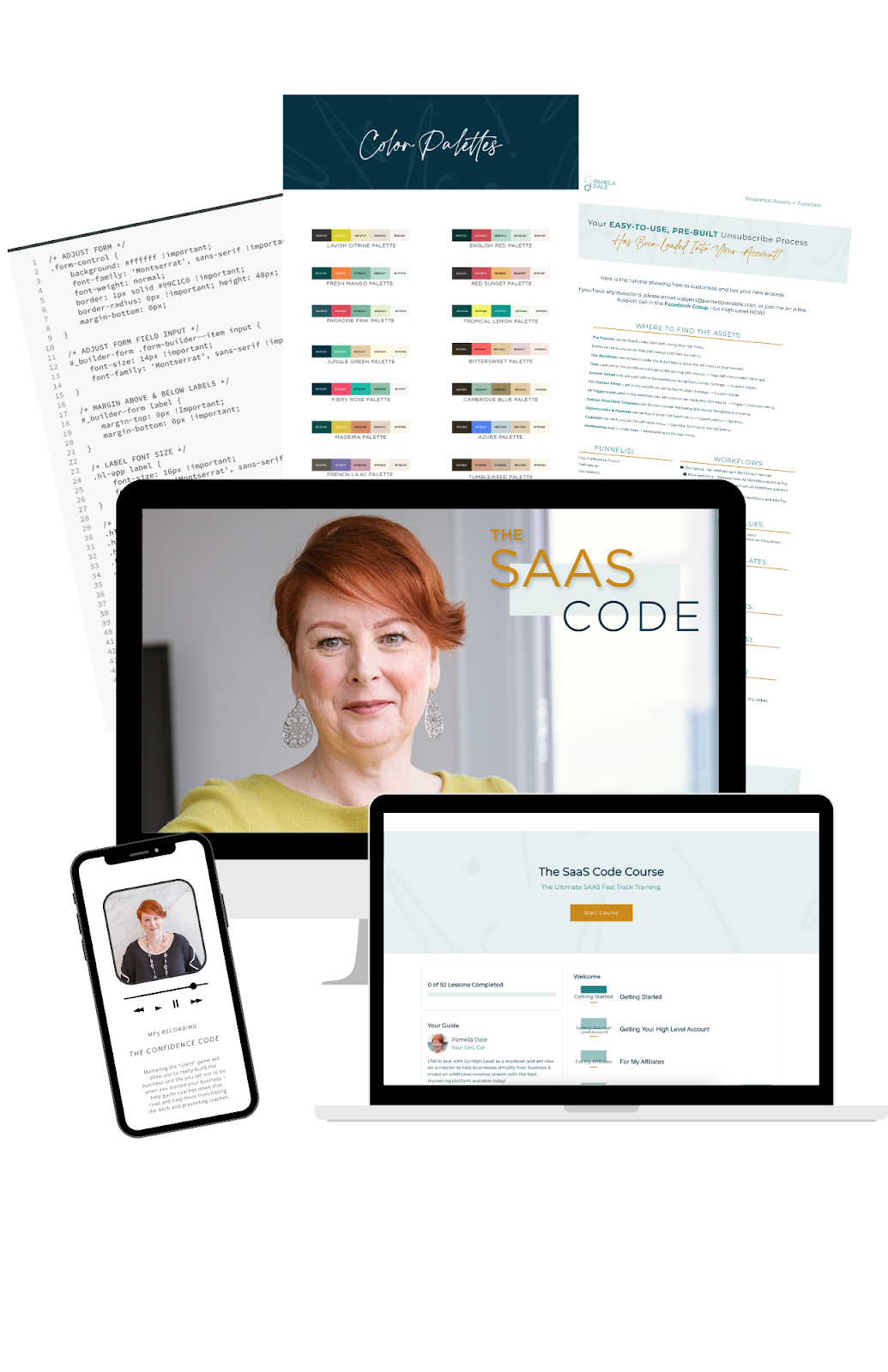 Click Here & Get Started Today!

Next up, The Agency Unlimited Account
With the Agency Unlimited account for $297, you're able to have unlimited sub-accounts.
What does this mean?
You're like a mini SaaS company.
You do not have the ability to charge a user automatically on a sales page as you do with the Pro Account.
Let's say I wanted to start an account with Convertkit, for example, I choose my plan and enter my details. My card gets charged and I automatically have an account.
I get an email login and I'm in. My card gets charged monthly or yearly based on the plan I chose.
On the $297 Agency Unlimited Account, you have the ability to add sub-accounts to your account - just like Convertkit but they are not being charged per month.
You can set that up manually through a bunch of Zapier connections if you want….
You can have unlimited sub-accounts in your account. And within these subaccounts, they have unlimited users, domains, funnels, etc.
Ready To Get Started With Go High Level NOW? Click here for your FREE 30-Day Trial

Finally, The Go High Level Pro Plan
The $497 Pro Plan - SaaS Mode is where things get really exciting.
For just $200 more a month, you are able to run a full SaaS business.
You are able to have unlimited sub-accounts.
You get to decide the price plans and the amount you want to charge for your SaaS.
You get to determine the features they get access to at each price point.
The Additional Costs Of Running A SaaS
To run a full white-labeled Gohighlevel SaaS business there are some additional costs to consider.
Mobile App
There is a customized mobile app available to you and it gets placed in the App stores.
This is $497/month additional.
The next thing to think about is support.
Development
High Level has an open API allowing you to add to your High Level account. The options are endless.
I have seen so many amazing things done with High Level. There is a whole developer community you can tap into.

Support
There are white-label support companies available to you.
They start at $97 or $197 a month and go up from there.
You can also have someone come in and do sales calls and or support calls and you may eventually want to add on more support as you go.
Support is probably going to be one of your biggest expenses.
You should be able to manage the support to your first hundred users by yourself if you are techy.
If you were charging $200 a month you're looking at a $20 or $30,000 a month business allowing you to take some of the money and channel it into support.
Taking support off your plate will allow you to do other things to grow.

Ready To Get Started With Go High Level NOW? Click here for your FREE 30-Day Trial

Final Thoughts/Wrapping Things Up
That's the breakdown of the pricing for white labeling or SaaS or just having an account yourself.
The price for a Go High Level account is either $97 or $297 or $497.
Many people start at $97 and move to the $297 and eventually $497.

Does Gohighlevel ever go on sale?
In my experience, I have not seen a sale price for High Level except for Black Friday and year-end where they give 2 months free when purchasing a year.
Is there going to be a price increase?
I don't expect a price increase from Gohighlevel.
They have never spoken about it and every time I'm on calls with them and are in rooms with them we do not ever hear a murmur of that.
In fact, we hear the opposite. Their goal is to keep this at this price. But build features that make the agency more money!
You could build a million dollar a year business with your costs at $1500/month to start.
You don't have to pay a developer cause you can white-label.

You don't need millions in starting capital and 70 developers.

You don't need to manage a huge team.
It is an amazing business model with huge upside potential.
_________________________________________
When you upgrade to the Pro Plan you will be given access to my signature Go High Level Affiliate Offer - The SaaS Suite.

Which includes:
The SaaS Code Course

The Go High Level Training Code Course

The SaaS Set Up - fully done for you

Onboarding Checklists

Snapshots

Coaching Snapshot

Your SaaS Snapshot

Support Snapshot

Access to our exclusive Go High Level Now Facebook Group with 2 weekly calls with me

As my affiliate, you are also given access to ME as your personal GHL Consultant.
And so much more!
What Are You Waiting For - Let's DO This - Together.
Click Here To Get Started Today.
Already a Go High Level user and it is time to upgrade to PRO - I got you!
Blog Post Out
The Fine Print: Some of my links are sponsored or affiliated and I may make a commission when you buy at no additional cost to you ✨