What are integrations?
Integrations are connections between systems and applications that work together as a whole to share information and data.
Integrations are important to look at when choosing software for your business for the following reasons:
Integrating third-party apps enhances the functionality of your current system.

Automating tasks that would otherwise need to be performed manually is also possible with integrations.

Integrating your systems helps your business streamline and centralize the data it needs to make informed decisions.
In this post, I am walking you through the native integrations for Go High Level and Clickfunnels 2.0.
First up Clickfunnels 2.0…
Clickfunnels 2.0 Integrations
With the 2.0 version of Clickfunnels, at the time of this post, 3rd party integrations are not supported by the app.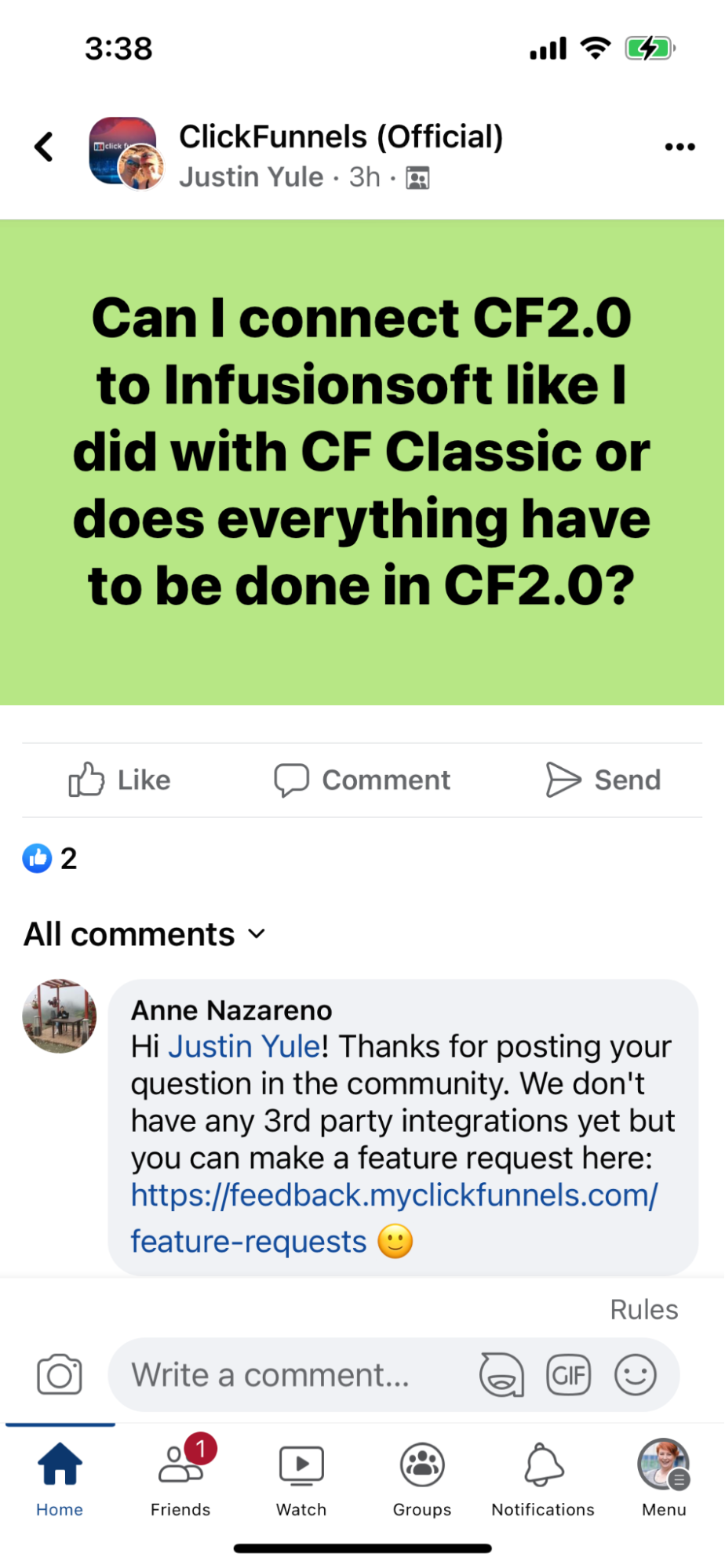 Taking a look at their roadmap here: https://feedback.myclickfunnels.com/feature-requests/p/integrations
I can see that integrations are marked as "in progress".

Without these integrations, Clickfunnels 2.0 functionality as a CRM is very limited, never mind as a piece of marketing software as it can not provide you with the data you need to effectively run your business.
When evaluating software it is important to determine what 3rd party integrations are available.
You are looking at Zapier or a tool like it to connect the 2 pieces of software and these connections break all the time.
Since Clickfunnels doesn't have 3rd party integrations I went looking for an API key.
At this time, I can not find an API for Clickfunnels in the app itself nor can I find any information about one in the help docs.
When evaluating whether or not to go with CF 2.0 or another piece of marketing software, it is important to know if it has an API.
This will allow you much more flexibility.
One more reason you may want to go with Go High Level.
If you prefer to watch:
Next, Let's Look At The Gohighlevel Integrations
I like to have as many integrations available to me as possible because they allow more data to be in one place.
Data = Decisions
No Data = Guessing = Less Money
Getting the data you need to make decisions for your business is possible with Go High Level. Not only because of the integrations but the features available within the software.
I can hook up my calendar, Facebook, Instagram, and telephone allowing all communication within one app. It has email capabilities within the app natively, this helps ensure I do not miss a message along with only having to give access to GHL rather than 15 different apps.
My Facebook and TikTok lead ads come into the system as well. When running Lead Ads for Facebook or TikTok you can trigger an automation for them.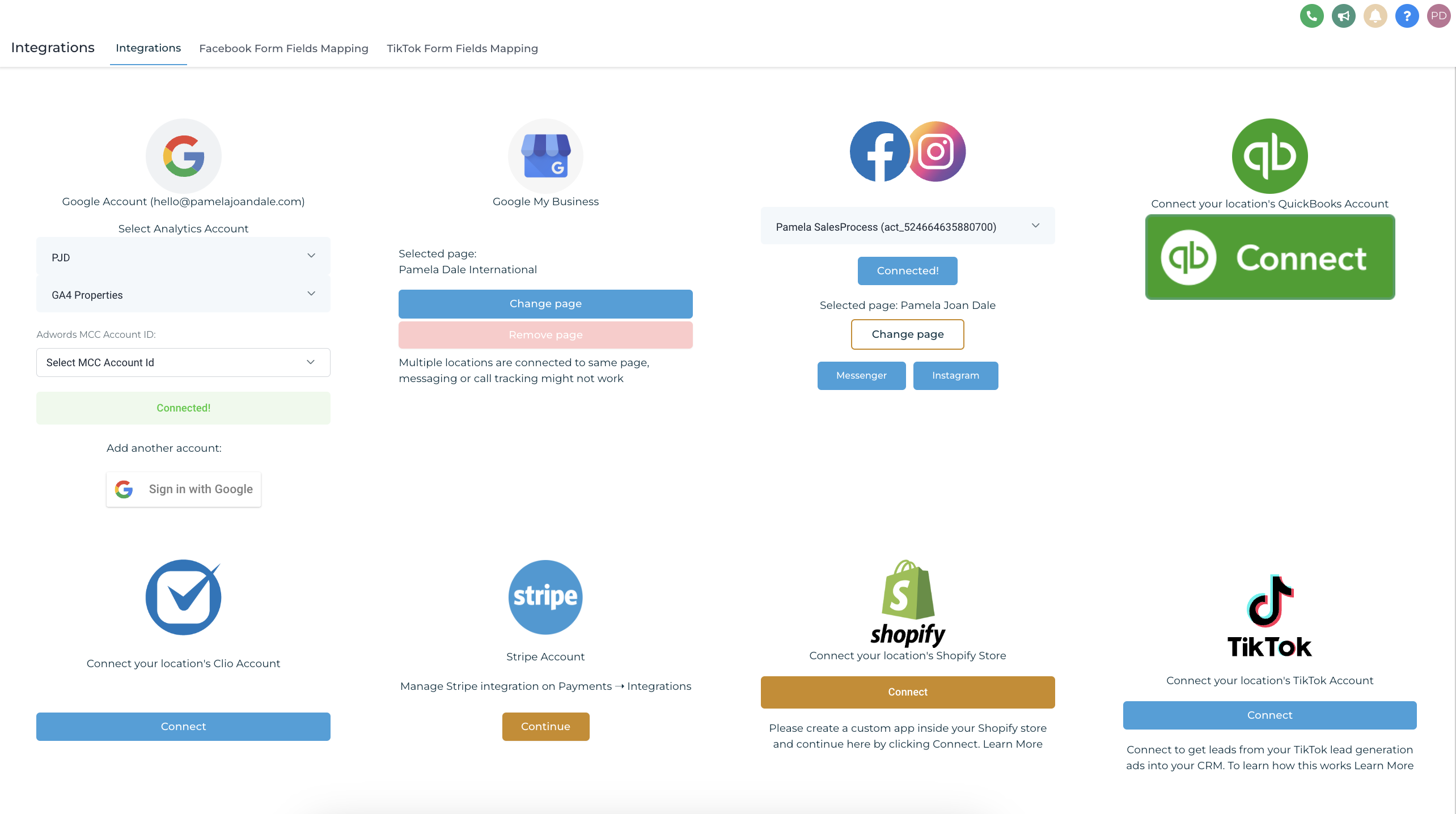 I can connect my Zoom, allowing me to have it auto-fill my appointment link in my appointments and reminder sequences.

If I use Outlook calendar instead of Google it integrates seamlessly as well.
I also have access to an API key that allows me to integrate with any outside tool as needed.
What is an API Key and how is it used?
An application programming interface key (API key) is a unique identifier used to authenticate a user, developer, or data passed via API.
You can use API keys to automate data exchange between software using applications like Zapier, Pabbly, Integrately, Make (Formerly Integromat), API Nation, and others.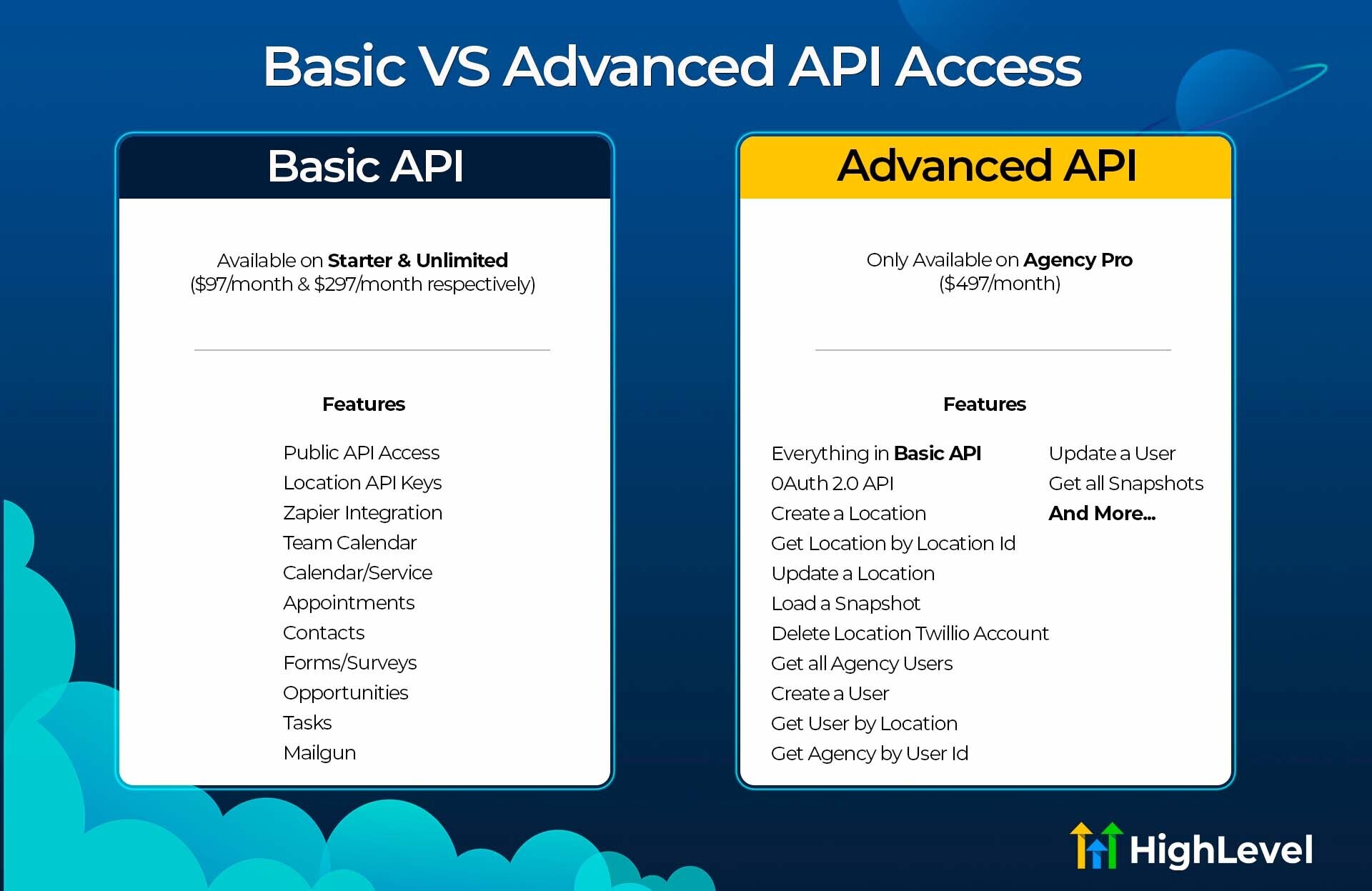 Basic API access is included with the GHL Starter $97 and Unlimited plans $297, while Advanced API access is available on the Agency Pro plan $497.
When looking at software, it is important to see what other apps and software you can replace.
With Go High Level, you can replace about a dozen other pieces of software and with Clickfunnels 2.0 at this time it functions only as a funnel builder and has a member's area.
Bonus - Go High Level Has An Open API
High Level gives users the ability to connect to High Level through API.
I won't sit here and pretend I understand all of this… But I am not stupid enough to not see the power of this.
Within the High Level community, there are some amazing people building things that work with GHL that are mind-blowing. It is only limited by your imagination.
You can learn more about the possibilities here: https://developers.gohighlevel.com/
Final Thoughts
In its most basic form, an integration is a way of connecting multiple platforms together into a single one.
AKA Saving you money and headaches.
So which tools does your CRM/marketing software need to communicate with?
Write down a list and evaluate every piece of software you have to take a look at and see how it will work with that particular tool.
Look at what it had natively vs an outside app.
This is crucial to your success.
If you would like to move forward with a Go High Level 14-day free trial I can help you get started.
Simply click on one of the links below and I will reach out and set up a call with you to get you up and running on High Level.
I look forward to working with you.
Go High Level Home Page - getthistrial.com/ghl-main-offer
Link for Existing Customers Who Want to Upgrade to HighLevel Pro - getthistrial.com/pro-upgrade
High Level Pro 14-Day Free Trial - getthistrial.com/14-day-free-trial
Your New Marketing Assistant Annual Plan - getthistrial.com/starter-annual
Link to Refer People to the HighLevel Starter OR Unlimited Annual Plans - getthistrial.com/annual-special-deal
Blog Post Out
The Fine Print: Some of my links are sponsored or affiliated and I may make a commission when you buy at no additional cost to you ✨