Digital marketing has revolutionized how businesses engage with customers.
Amidst this transformation, automation has emerged as a key driver of efficiency and effectiveness.
Let's explore the role of marketing automation in the digital age, with a particular focus on Go High Level, a robust platform built to empower your marketing efforts.
Prefer to watch:
Interested in learning how to create another revenue stream with white-labeled software.
This is my FREE signature course to get you started on the path to building your SaaS Business.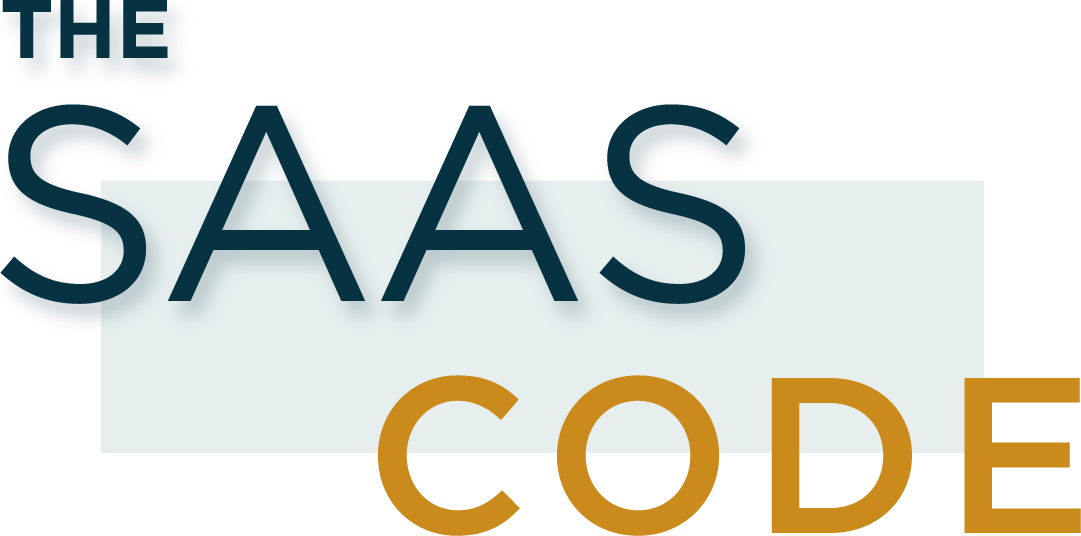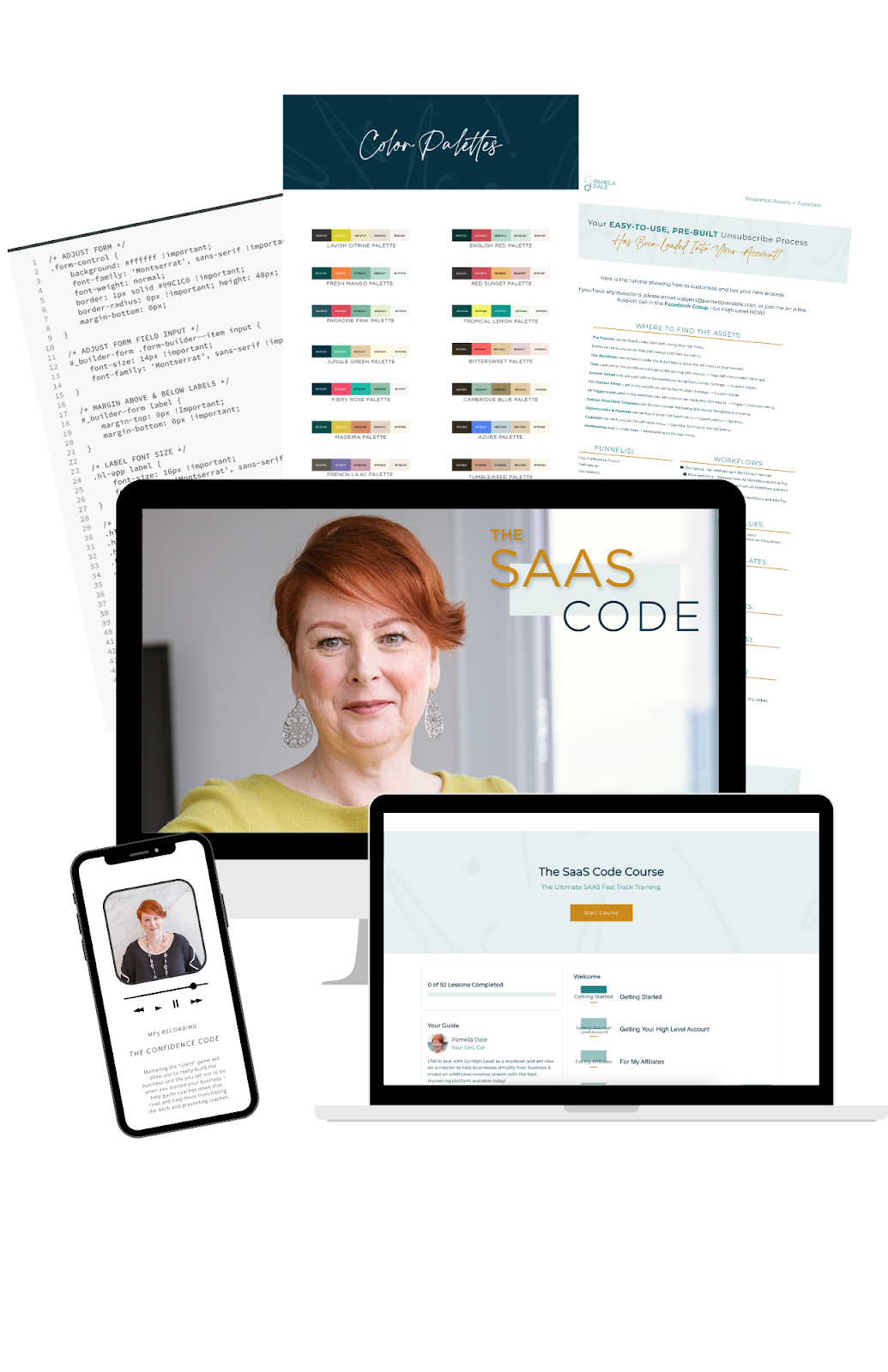 Click Here & Get Started Today!
What is Marketing Automation?
DEFINING MARKETING AUTOMATION
Marketing automation is a technology-driven approach that manages marketing processes and campaigns across multiple channels, reducing the need for manual work.
It helps in scheduling emails, segmenting contacts, tracking website interactions, and posting on social media, among many other functions.
THE SIGNIFICANCE OF AUTOMATION
The digital age and especially since the introduction of AI has increased the need for personalized marketing.
By automating repetitive tasks, businesses can focus on strategy and content creation, resulting in improved customer experiences and increased conversions.
The Rise of Go High Level in Marketing Automation
A BRIEF OVERVIEW OF GO HIGH LEVEL
Go High Level (GHL) is an all-in-one marketing platform that offers powerful automation tools.
It integrates seamlessly with a variety of other software, making it a versatile choice for many businesses.
Go High Level Triggers
One of the core features of HighLevel is its "Triggers" functionality, which plays an integral role in automating business processes and customer interactions.
A "Trigger" in HighLevel is an event that initiates a certain action or set of actions.
These triggers help in automating the workflow and delivering personalized experiences to customers, based on their interaction with your website, emails, or other touchpoints.
Below are screenshots of all the available triggers for High Level.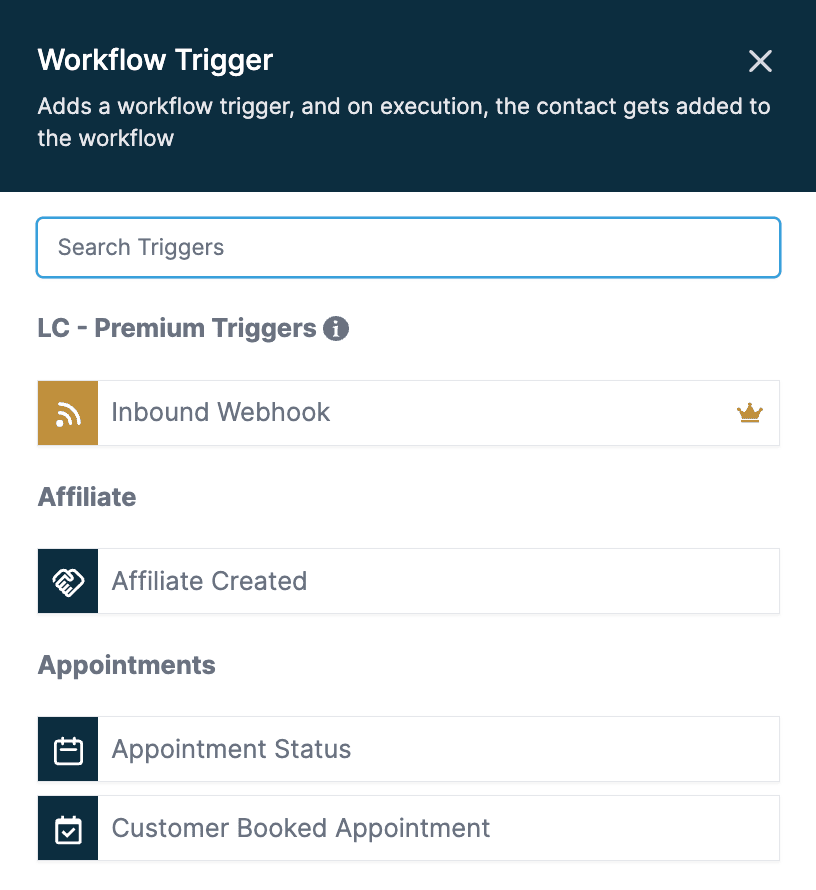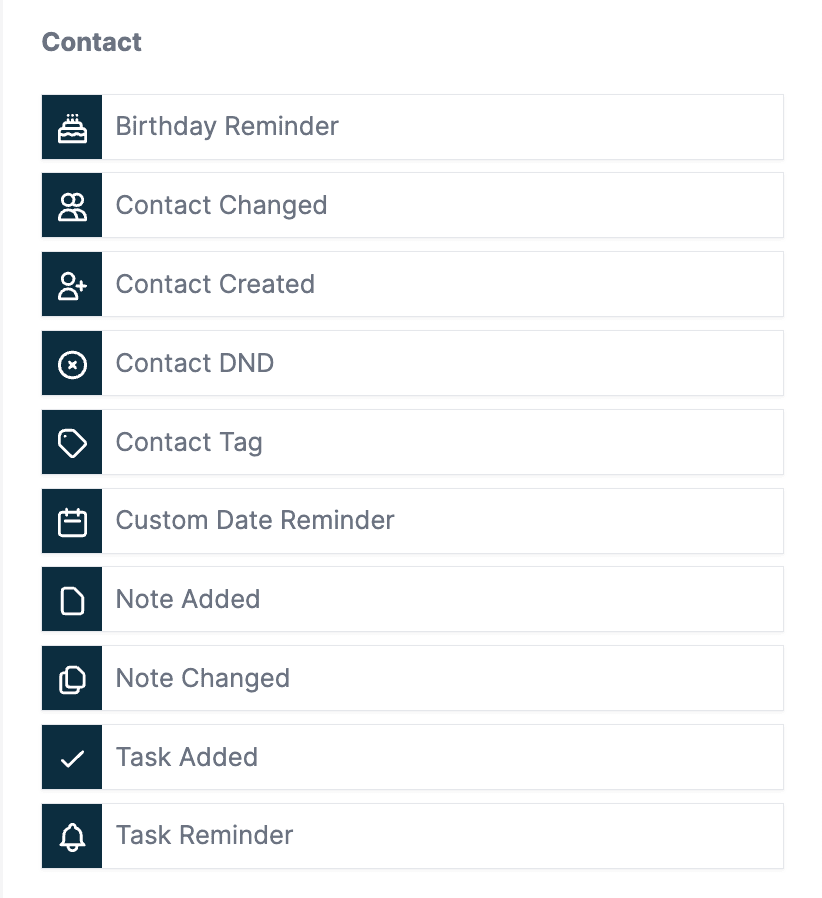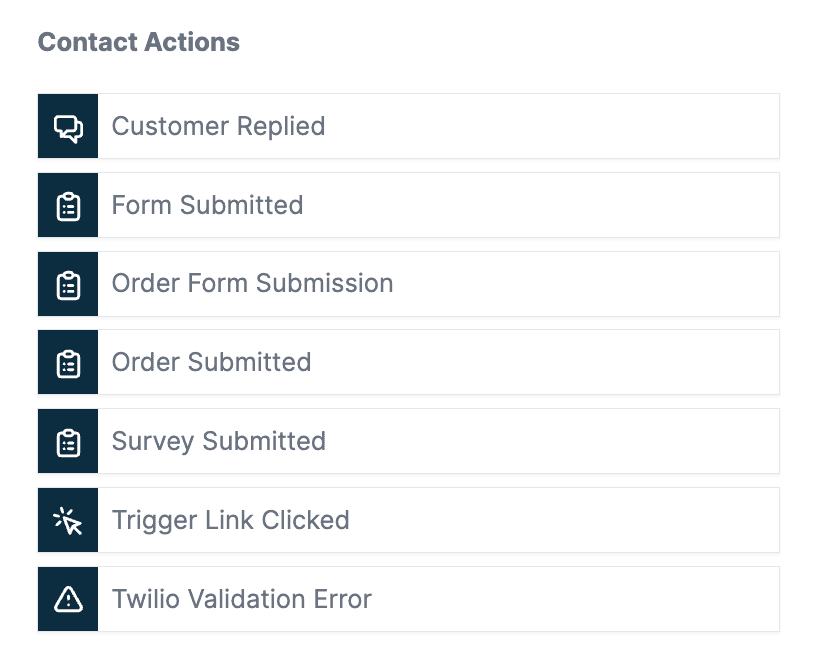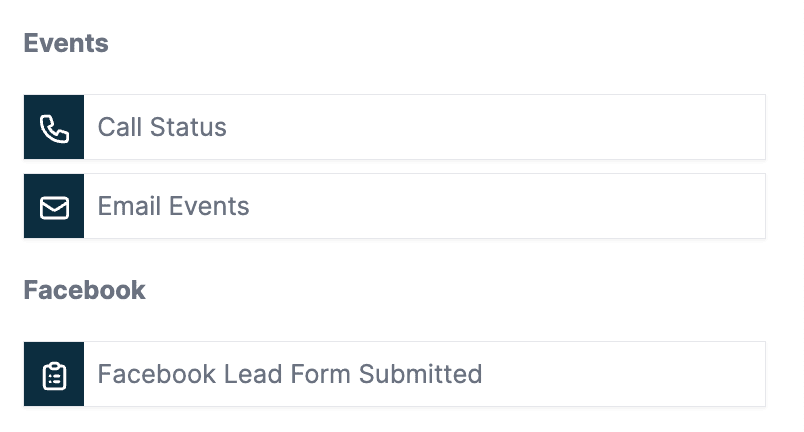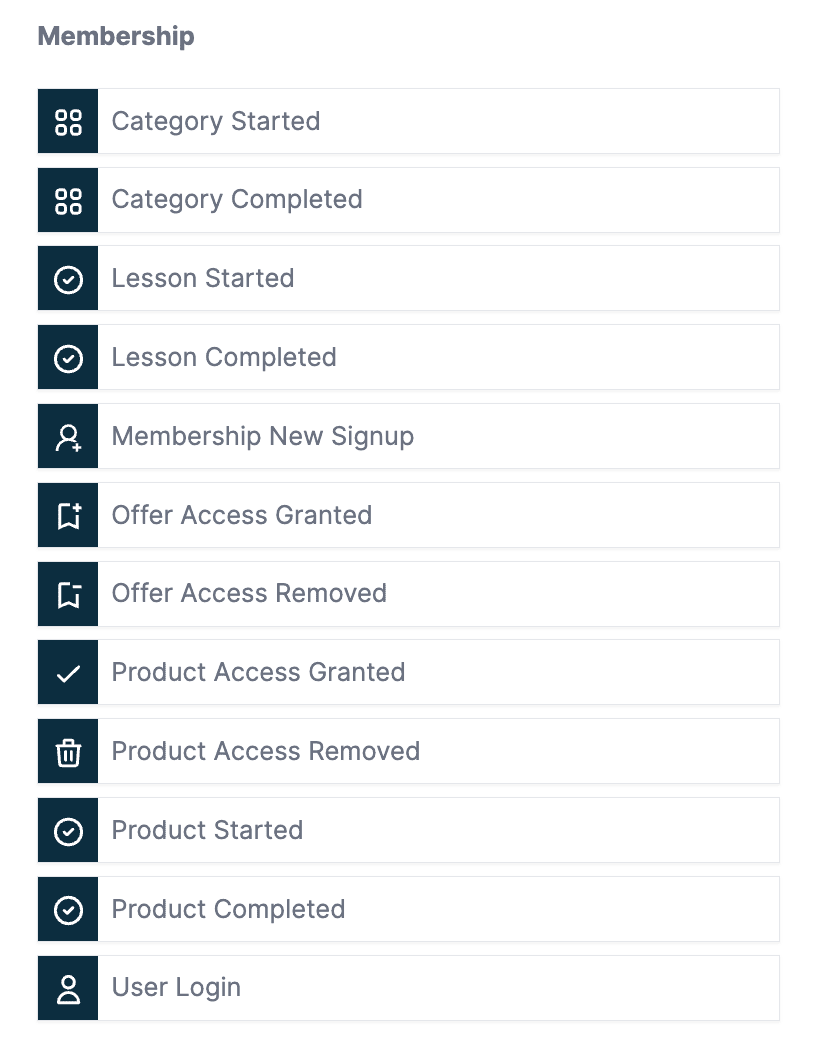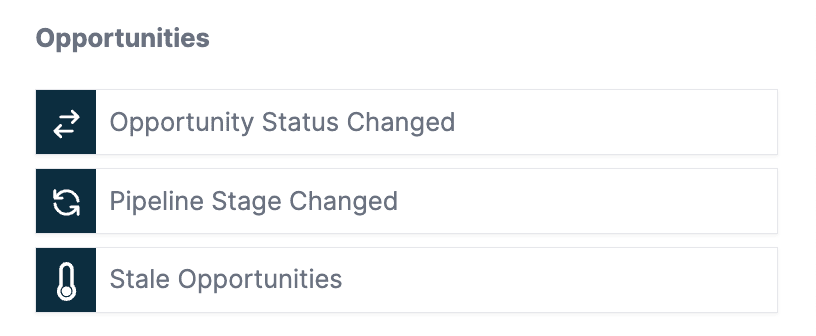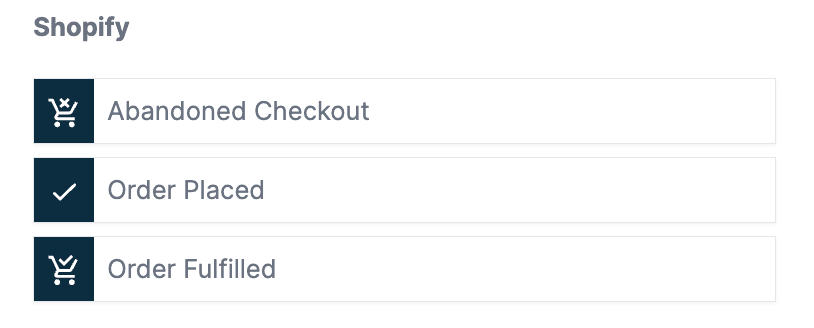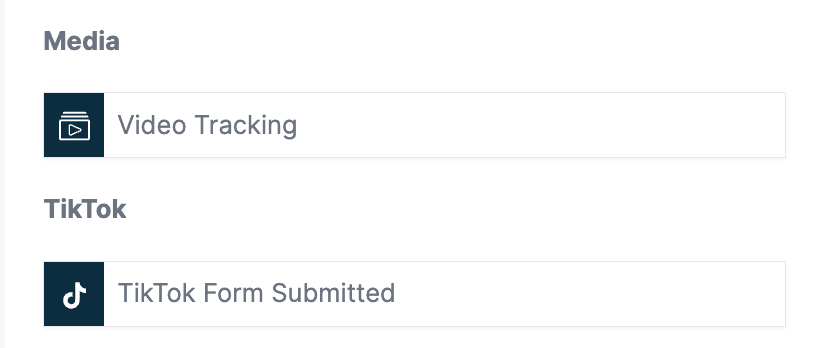 You can see all the possibilities for automation in your business.
Ready To Get Started With Go High Level NOW? Click here for your FREE 30-Day Trial
Go High Level Actions
Once a trigger is initiated in the HighLevel system, you can configure a range of actions that the system will take in response.
These actions serve to automate your marketing, sales, or customer service processes, saving you time and effort while also ensuring a consistent response.
For example when someone fills outs out a form or an order form you can have a number of actions triggered.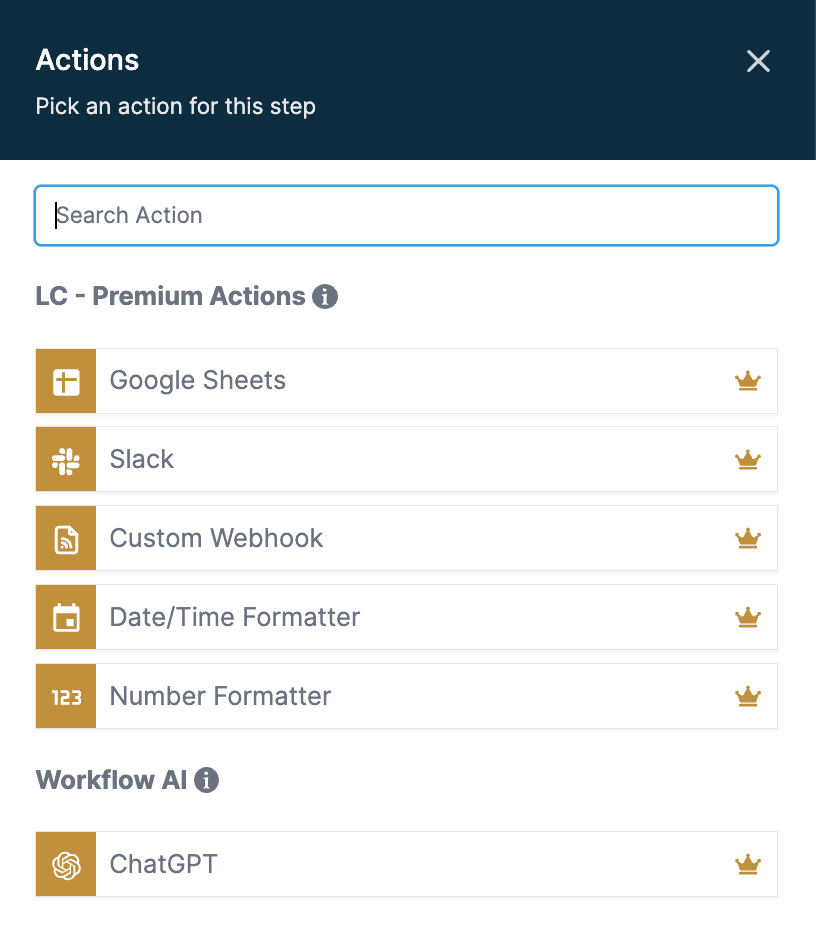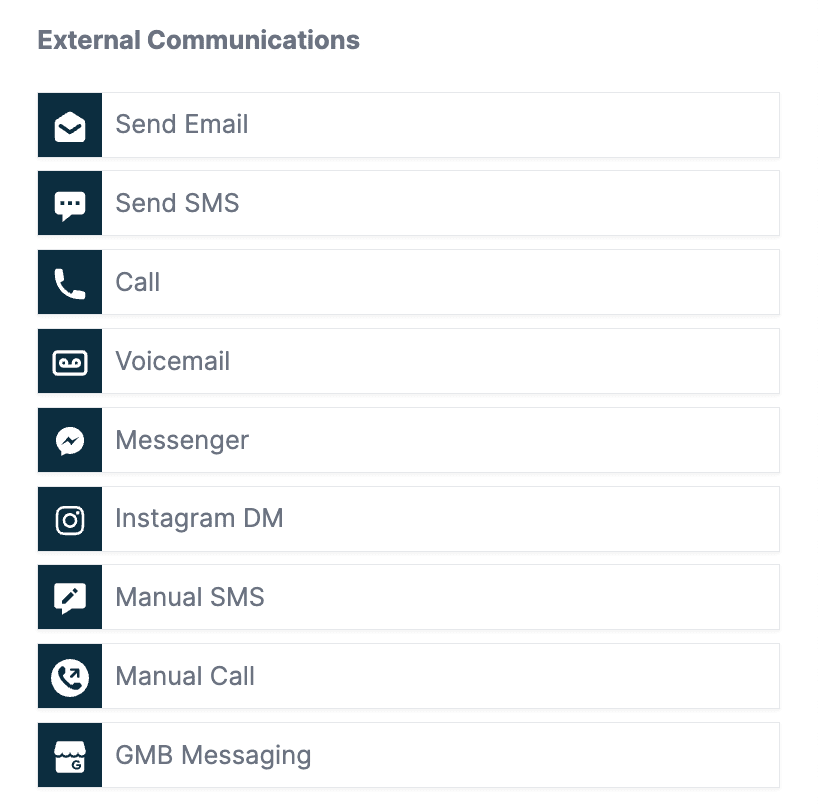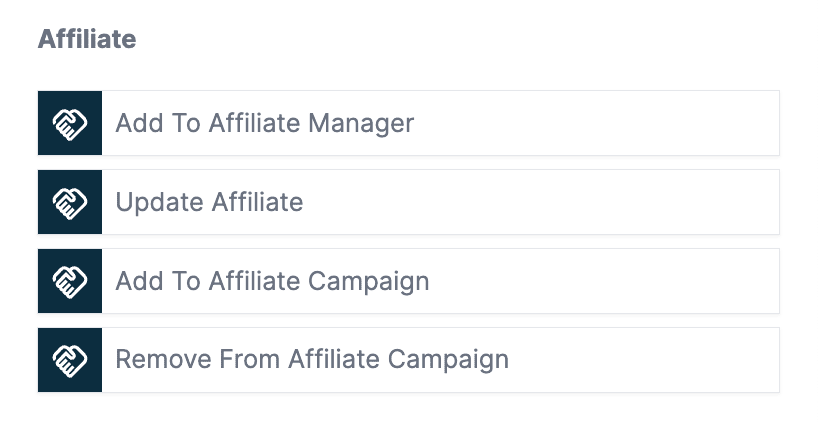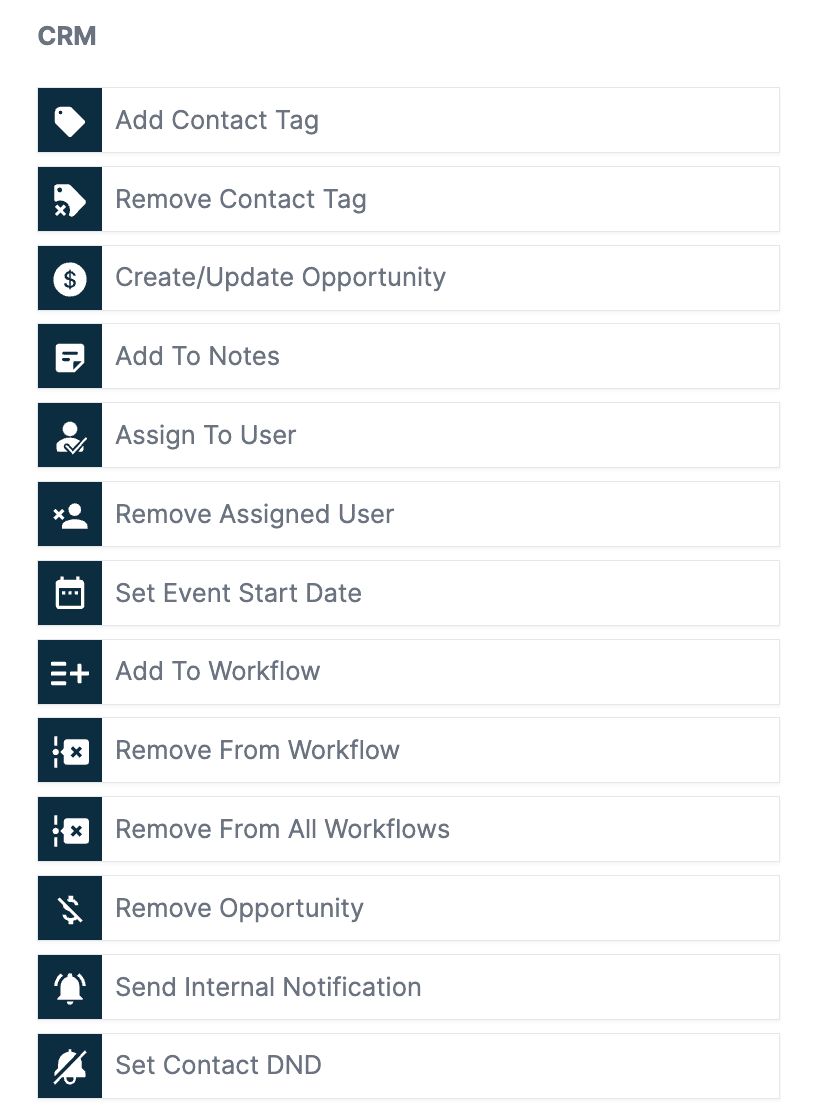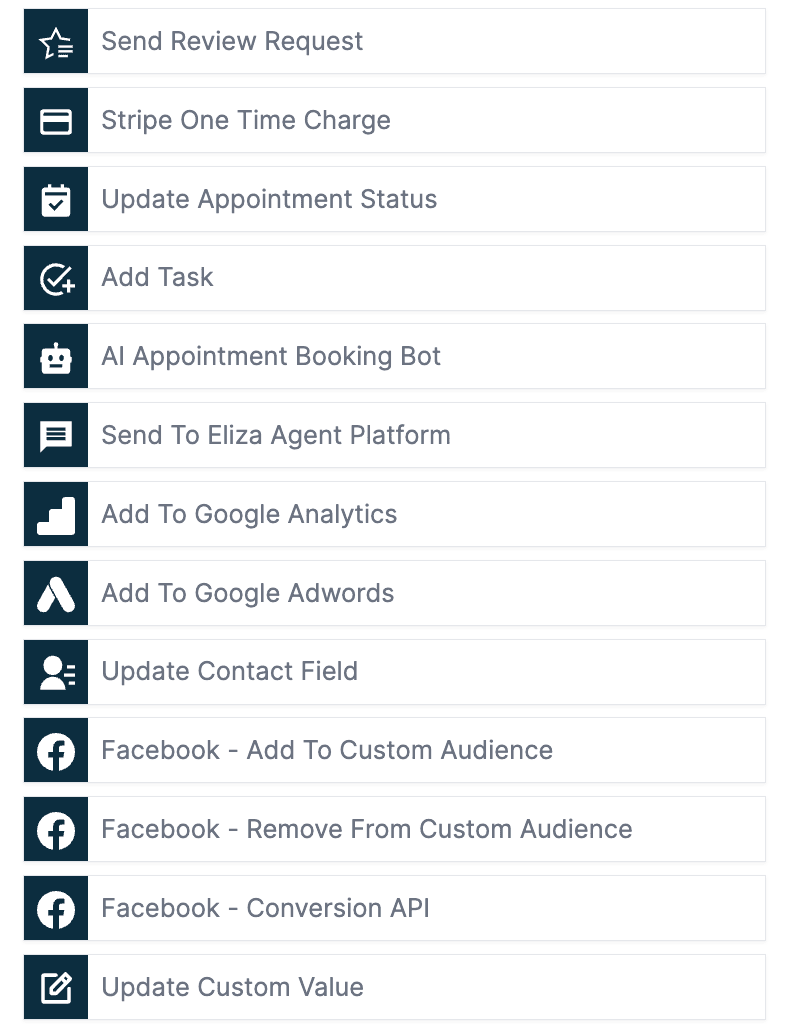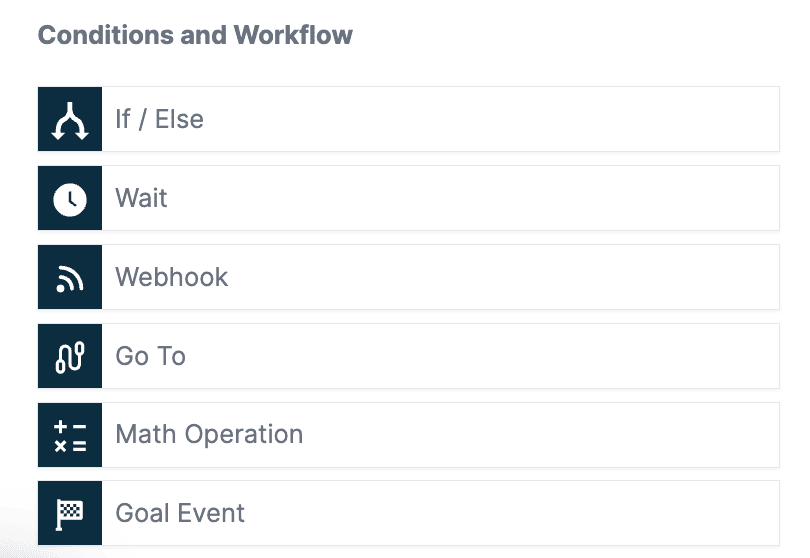 By setting up and using these actions in combination with triggers, you can automate many aspects of your marketing, sales, and customer service processes, and create personalized experiences that help to engage and convert your customers.
Benefits of Using Go High Level for Marketing Automation
WHY CHOOSE GO HIGH LEVEL?
The rise of GHL in the world of marketing automation is due to its diverse feature set, user-friendly interface, and its ability to integrate with existing marketing systems.
These features allow businesses to manage all their marketing efforts from a single platform, saving time and improving efficiency.
INCREASED EFFICIENCY
One of the primary benefits of using GHL for marketing automation is the increased efficiency it brings.
The platform allows businesses to automate repetitive tasks, freeing up time to focus on strategic decision-making and creative tasks.
BETTER TRACKING AND ANALYTICS
GHL provides comprehensive analytics and reporting features, enabling businesses to track their marketing campaigns' performance, gain valuable insights, and make data-driven decisions.
ENHANCED PERSONALIZATION
With GHL, businesses can create personalized marketing campaigns that resonate with their target audience.
The platform offers features like segmentation and trigger-based messaging, which allow for more relevant and engaging communication with customers.
IMPROVED ROI
By streamlining marketing processes and improving the effectiveness of campaigns, GHL can help businesses improve their return on investment (ROI).
Ready To Get Started With Go High Level NOW? Click here for your FREE 30-Day Trial
Implementing Go High Level in Your Marketing Strategy
ASSESSING YOUR MARKETING NEEDS
Before implementing GHL, it's crucial to assess your current marketing strategy and identify areas where automation can bring value.
This could involve analyzing your customer journey, identifying bottlenecks, and determining which tasks can be automated.
SETTING UP YOUR CAMPAIGNS
Once you've identified your needs, the next step is setting up your campaigns in GHL.
This involves configuring your email templates, setting up triggers for automated responses, segmenting your audience, and scheduling your campaigns.
LEVERAGING AUTOMATION TOOLS
With your campaigns set up, you can start leveraging GHL's automation tools.
This could involve automating email and SMS marketing, setting up voice broadcasting, or automating your social media posts.
MONITORING AND TWEAKING YOUR STRATEGIES
Once your campaigns are live, it's essential to monitor their performance and make necessary adjustments.
GHL provides comprehensive analytics that can help you understand how your campaigns are performing and where improvements can be made.
Want to learn about mastering automation with Go High Level
Conclusion: Embrace the Future with Go High Level
The digital age has brought a new wave of marketing opportunities, and businesses that can leverage these opportunities are the ones that will thrive.
By understanding and implementing marketing automation, and by harnessing the power of platforms like GHL, businesses can take their marketing efforts to new heights.
READY TO TAKE YOUR MARKETING TO THE NEXT LEVEL WITH GHL?
I encourage you to explore this powerful platform and discover how it can revolutionize your marketing strategy.
If you have any questions or would like more information, don't hesitate to reach out.
Let's embrace the future of marketing together.
_________________________________________

When you upgrade to the Pro Plan you will be given access to my signature Go High Level Affiliate Offer - The SaaS Suite.

Which includes:
The SaaS Code Course

The Go High Level Training Code Course

The SaaS Set Up - fully done for you

Onboarding Checklists

Snapshots

Coaching Snapshot

Your SaaS Snapshot

Support Snapshot

Access to our exclusive Go High Level Now Facebook Group with 2 weekly calls with me

As my affiliate, you are also given access to ME as your personal GHL Consultant.
And so much more!
What Are You Waiting For - Let's DO This - Together.
Click Here To Get Started Today.
Already a Go High Level user and it is time to upgrade to PRO - I got you!
Blog Post Out
The Fine Print: Some of my links are sponsored or affiliated and I may make a commission when you buy at no additional cost to you ✨