"That's the thing about people who think they hate computers. What they really hate is lousy programmers." ~ Larry Niven
Clickfunnels vs Go High Level
Have you ever wondered how Go High Level compares to ClickFunnels?
I know I did when I first heard about High Level and I also know many others are asking the same question.
That is what this post is all about. I'm gonna break it all down.
So what I did was open 2 new accounts – one for Clickfunnels and one for High Level and in this post and in the video below I walk you through both pieces of the software from sign up to show you the differences.
I have used both pieces of software extensively and I will settle the Clickfunnels vs Go High Level debate once and for all.
As two of the top players in the conversion marketing platform market, let's compare them side-by-side.
Let's Take A Look At The Marketing Messages – Go High Level vs Clickfunnels
First up Clickfunnels: "Quickly Create Beautiful Sales Funnels That Convert Your Visitors Into Leads And Then Customers…" (Without Having To Hire or Rely On A Tech Team!)
On the browser tab for Clickfunnels – Marketing Funnels Made Easy.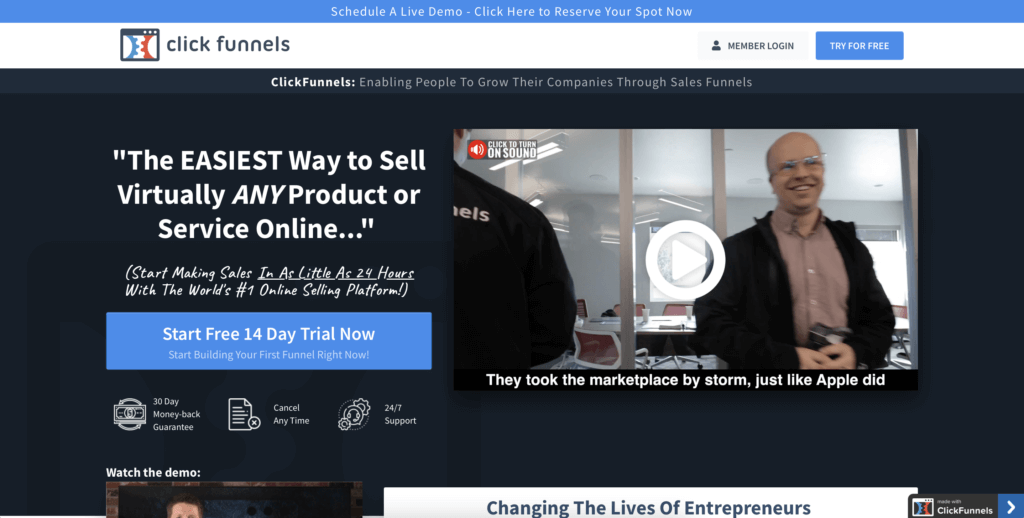 Next,
Go High Level: We Help Agencies & Marketers Thrive With Our All-In-One Sales & Marketing Platform [ FOR AGENCIES, BY AN AGENCY ]
On the browser tab for HighLevel – It's Time To Take Your Agency To The Next Level.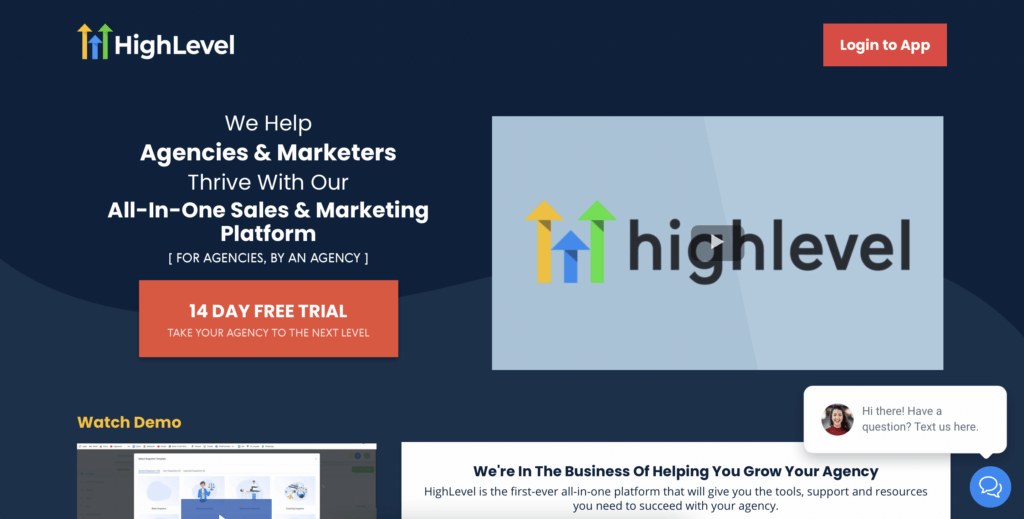 It is clear, at first glance, what each company does and who they do it for.
We are off to a good start…
The First Big Difference I Noticed Immediately Between Go High Level And Clickfunnels
Was the transparency in pricing.
It was very clear on the Go High Level sales page the price and what was included at each level.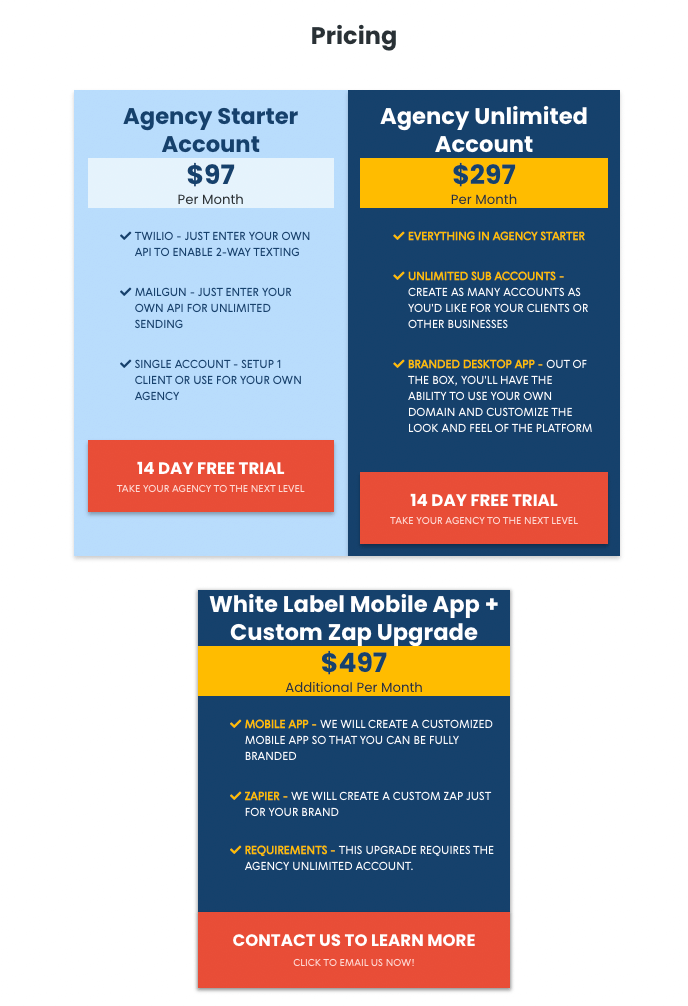 With Clickfunnels it wasn't until I got into the sign-up process that I could see what the price was.
Clickfunnels also defaults to the $297 plan upon sign-up unless I went to abandon and then I was offered the $97 plan as seen in the images below.
A Comparison Of What's Included In The High Level and Clickfunnels $97 Plan
First, High Level is UNLIMITED on all payment options – including the $97.
At the $97 tier, it is for one user or for one client.
Unlimited Funnels

Unlimited Websites

Unlimited Domains

Unlimited Products/Course

Unlimited Sub Users/Team Members

Unlimited Contacts

Unlimited Members

Unlimited Native Video Hosting

Unlimited Marketing Automations

Unlimited Emails Text Messaging

Unlimited Integrated ChatBot

Unlimited Pipelines

Unlimited Calendars

Unlimited Team Calendars

Unlimited WordPress Blogging
Clickfunnels limits a user on the $97 plan to:
HUGE DIFFERENCE.
High Level takes this round.
The Differences In The Sign-Up Process Between High Level And Clickfunnels
I was looking at this sign-up process as a demonstration of the 2 apps for this post but I was also looking at it from a marketer's perspective.
And I think this is why people think Clickfunnels is such an amazing piece of software.
They lead in the marketing, using copy to evoke the emotions that come with the "One Funnel Away" mantra.
Clickfunnels really excels in the marketing on their homepage and in everything they do.
I have laid out the screenshots of what the sign-up process for both looks like below.
Signing Up for Clickfunnels
ClickFunnels has a much clearer, cleaner sign-up process.
Once I clicked on the "Start A Free 14-Day Trial" button I was taken to this screen.
You can see by the next screenshot I was immediately put on the $297 plan and I was not able to select the $97 plan.
I really liked the layout of this page and the itemized list.
It really conveys the value but I did not like that I could not easily see how to select the $97 option. It is in the bottom right corner of the image above.
I went to abandon the page just to see if they had a pop-up and they did.
The marketing with Clickfunnels is on point.
One thing that was different since the last time I signed up was the onboarding. Clickfunnels now has a Getting Started Webinar.
All software has a learning curve and this will really help with the adoption of the app.
I did not sign up for the webinar but it was so great to see it available to me.
The Clickfunnels Welcome Email
The Clickfunnels Welcome Email broke down the "steps to success" and the rest of the emails that came were really good in helping to explain the process and the story of Clickfunnels and how the company came to be.
Clickfunnels has really nailed the marketing and onboarding process.
They have demonstrated well how to market a business. There are some great takeaways from watching them.
Next, Signing Up For High Level
It is made very clear what I was signing up for and the cost. I loved the transparency of the pricing.
This is one of the biggest differences I see between the 2 brands. High Level is more transparent than Clickfunnels.
This is branding and this is why we choose one brand over another – an alignment in values.
I like knowing what I am signing up for.
Although High Level has 3 price plans I selected the $97 and was given the choice of choosing the $297 as well.
On the next step in the process, I was offered a "done for you" setup for a one-time charge of $299.
I selected no and then I was taken to this next screen.
A few more steps.
Then it got interesting.
High Level eluded to the fact that I could resell High Level.
If I was not aware of the white-labeling option this may have been a bit confusing or I may have missed it altogether.
I then was asked to select what apps I was using.
I was then directed to create a password and then I was directed to the dashboard.
The High Level Welcome Email
You can see the huge difference between the initial Clickfunnels and High Level's emails.
The only other emails I received from High Level after the initial sign-up were about their affiliate program.
Once I signed up, I was also automatically enrolled as an affiliate.
I did not hear from Clickfunnels about their affiliate program.
Clickfunnels' marketing is on point.
Clickfunnels has clearly taken the lead in this race.
Clickfunnels really surpasses High Level in the sign-on/onboarding process.
Next, let's go ahead and take a look inside both apps.
Let's Take A Look At The Dashboards Of Both Clickfunnels And High Level
Clickfunnels has made a few minor tweaks to its system and dashboard since I used it 2 years ago but it did not really improve the overall functionality of it in my business.
Clickfunnels shows just the funnel data and there is a filter to show your favorite funnels.
But the data is limited to Sales, Follow Up Funnels (their email system), and affiliate sales.
At a glance, you can see the amount of money you have made in the funnels.
Follow-Up Funnels stats – their email service provider system along with your affiliate numbers.
High Level has 2 dashboards.
An agency-level dashboard and a client-level dashboard.
As High Level also gives you the ability to have sub-accounts, if you upgrade to the $297 level, and the ability to white-label High Level as your own SaaS if you upgrade to the $497 level, so this is why there are two separate dashboards
This first screenshot is of the Agency level dashboard.
This is a screenshot at the Client level.
As Clickfunnels does not white-label or allow subaccounts we will continue this comparison at the client level.
There are a number of differences in the first look at the dashboards.
Although both Clickfunnels and High Level show you a quick snapshot of the numbers, High Level presents more data, flexibility, and high-level views.
This is because they have more features available inside the software.
One of the most powerful is Pipelines – I'll show them in a bit, your ability to see your projections and you have the ability to filter down to a single pipeline on this dashboard quickly.
One other thing to note is the onboarding and ongoing training available with High Level and Clickfunnels.
In High Level, they have something called the "Launch Pad" to walk you through the initial set-up and Clickfunnels has a "Your Next Steps" section on their dashboard.
Clickfunnels has a "Your next steps" feature on their dashboard.
One thing I love about Clickfunnels is the additional training available to users and it is an amazing resource for a digital marketer or someone wanting to learn digital marketing.
The resources available for you within Clickfunnels are some of the best I have seen.
Clickfunnels – for the win.
NEXT, HOW DO CLICKFUNNELS AND HIGH LEVEL COMPARE WITH REGARDS TO HELP DOCUMENTATION?
Clickfunnels vs High Level Help Sections
I think both Clickfunnels and High Level do well with help documentation. They both had very full well laid-out libraries with all topics available.
This would be a tie!
Next, this is where things start to get interesting…
What Native Integrations Are Available in High Level And Clickfunnels?
In High Level, you can connect one Gmail account, a Google Calendar, Google Analytics, a Google Ad Words account, and a Google My Business account.
You can also connect a Facebook Business account along with an Instagram account allowing you to bring all communication into the app.
You can also connect a Quickbooks account.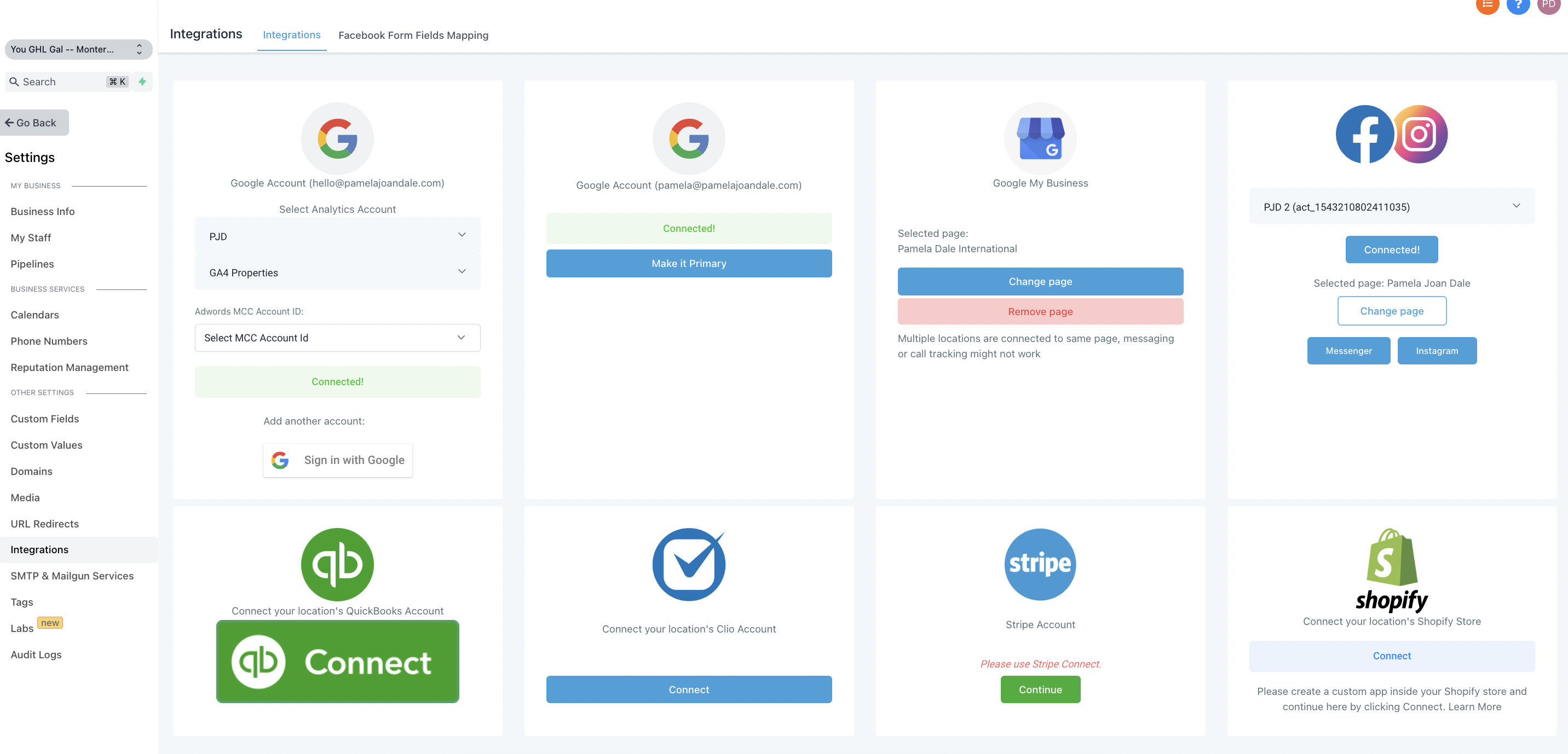 You can also connect a Zoom account and an Outlook Calendar account at the team level.
In Clickfunnels these are API connections and many of these features such as email service provider, CRM, and calendars are native in High Level and do not require outside apps.
You and I are in the lead business and with more native integrations within High Level, there is less chance of losing leads, dropping leads, or having leads stall out.
One big missing piece in Clickfunnels is data.
They have amazing funnel stats but funnel stats are only part of the info you need to run your business and make strategic decisions.
On Clickfunnels to get the Follow Up Funnels (email service provider) you need to be on the $297 plan so as a result people will connect an outside ESP and then – we have a data issue.
You need to be a real numbers and Excel person to measure….
This is expensive.
In High Level, you can see so much more data due to the native integrations and everything in one platform.
Next Up – Payment Gateways In Clickfunnels and High Level
Go High Level just launched a native PayPal integration and they also have Stripe for payment processors.
Clickfunnels users have many more options available to them.
But Clickfunnels does not have PayPal and Stripe capabilities available together on one order form. It can be accomplished with complicated code and, of course, breaks, and so does your bank account.
Clickfunnels takes this round.
Until Now, You Could Have Argued Clickfunnels Had The Lead…
And they did in a few areas…. I was giving them a bit of a head start….
The interesting thing is we haven't even started talking about funnels yet.
Even though Clickfunnels is known as the funnel company Go High Level starts to take the lead – big time.
Unfortunately, this is where Clickfunnels really starts to steer off the road.
I think the reason Go High Level is not as well adapted as a funnel building app is that they are not as strong in the "marketing" front,
Go High Level's owners are software engineers and this is why Go High Level starts to pull out front in this race – the engine hidden under the hood.
I had not been in the Clickfunnels editor for 2 years and not much has changed except the onboarding/training.
What I found was that the Clickfunnels software is very outdated with regard to its functionality.
Let me show you why…
Let's Take A Look At What High Level Can Do That Clickfunnels Can't
Let's start by looking at the settings tabs.
First up, Go HighLevel.
Immediately, you can start to see the size of the engine behind High Level.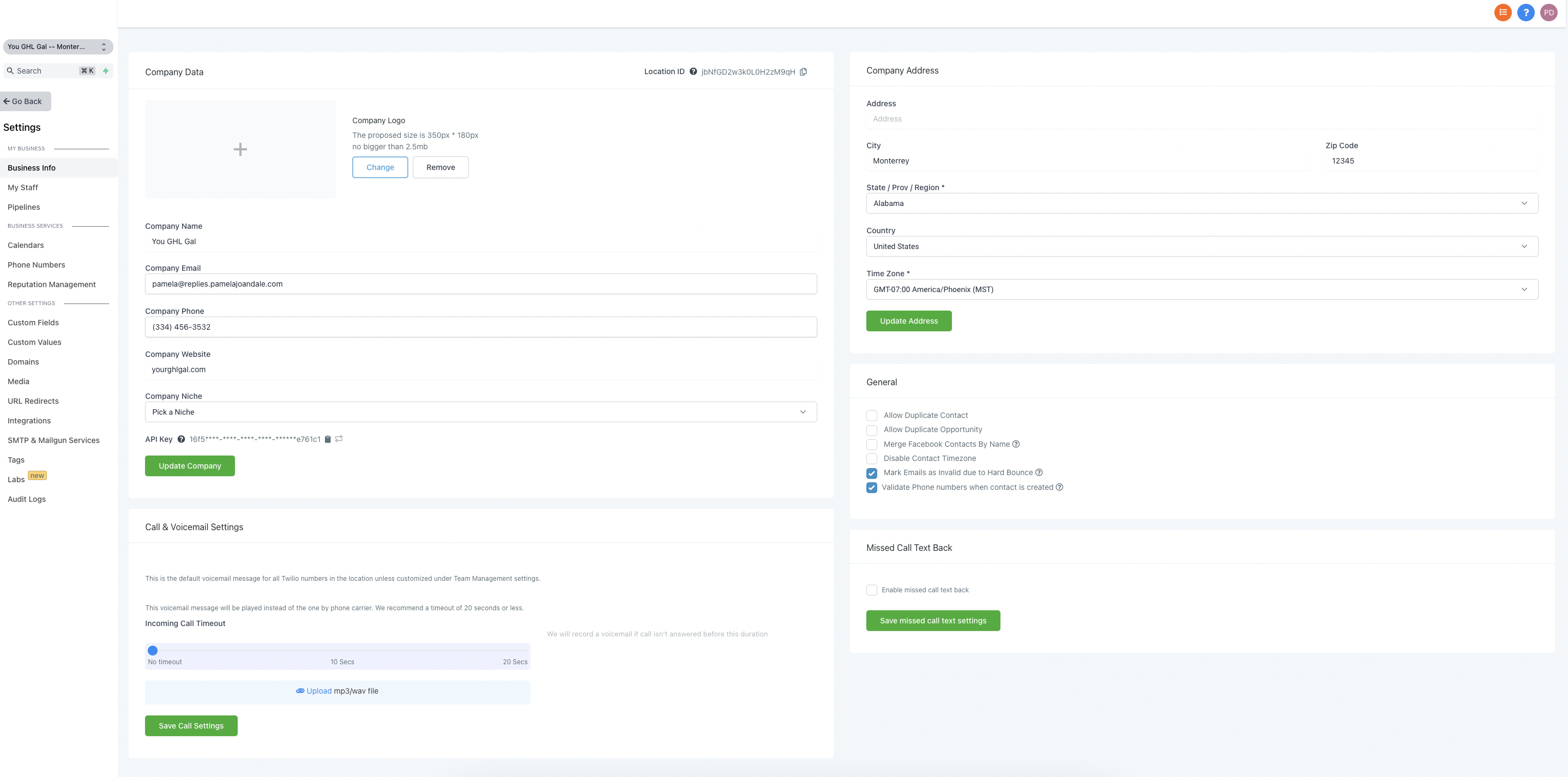 At first glance, you can see in the High Level settings tab the ability to connect phone, voicemail, and text.
This is at the company level.
In Clickfunnels you can connect Twilio for text messaging capabilities but it is more limited.
DOMAINS
Clickfunnels has a .clickfunnels URL that I see many people run their funnels on with ads on and the Clickfunnels URL has, over time, gotten a bad reputation on the search engines.
In High Level, you must bring in your own URLs.
I break this down a bit more in the video that goes with this blog post and in other YouTube videos.
The Difference In The High Level And Clickfunnels Menus
As soon as we start to look at the menus we can see the stark differences in the capabilities between Go High Level and Clickfunnels.
Follow Up Funnels and BackPack are only available on the $297 plan in Clickfunnels.
First up, the menus is Clickfunnels.
It looks like a lot but in actuality, most of the features are not available on the $97 plan. Follow Up Funnels (email service provider) and Backpack (affiliate software) are in the $297 plan.
You still need to have an email service provider, a CRM, a calendar, and a pipeline…
So you are doing with Zapier, API, and a lack of functionality or an overly bloated set of tools.
Now let's take a look at the Go High Level Menus along with the sub-menus.

Conversations

Calendars

Contacts

Opportunities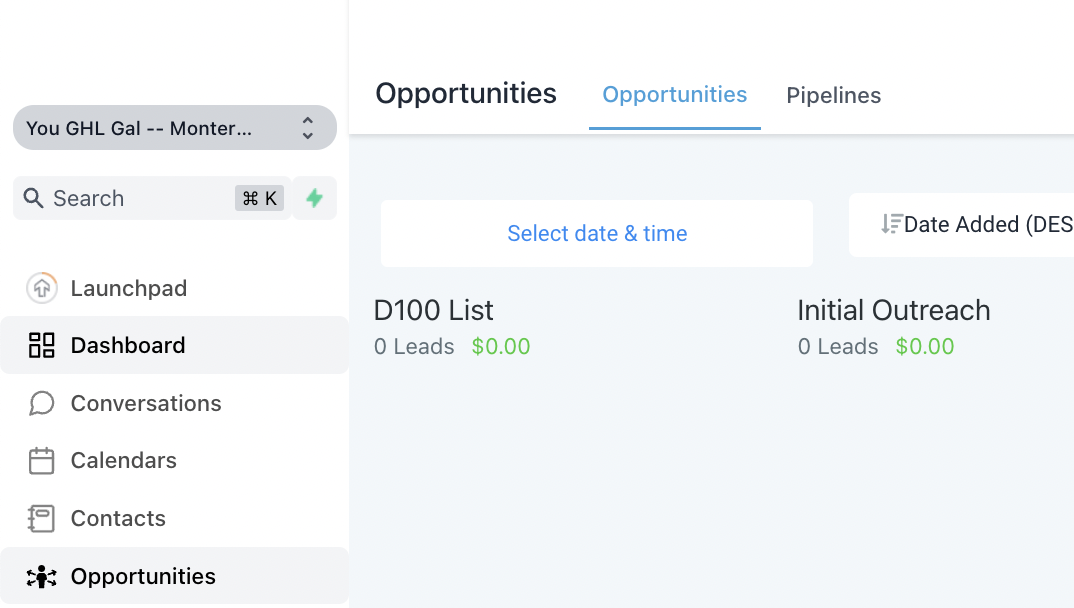 Payments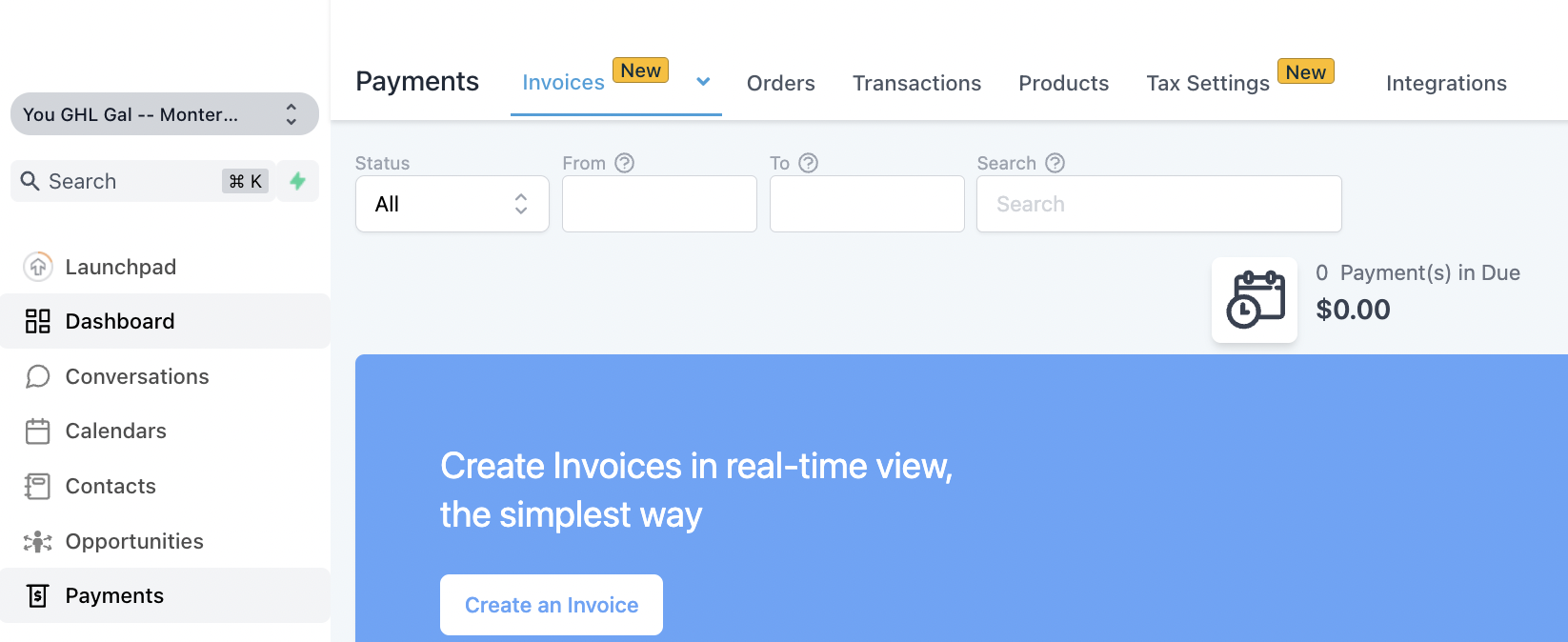 Marketing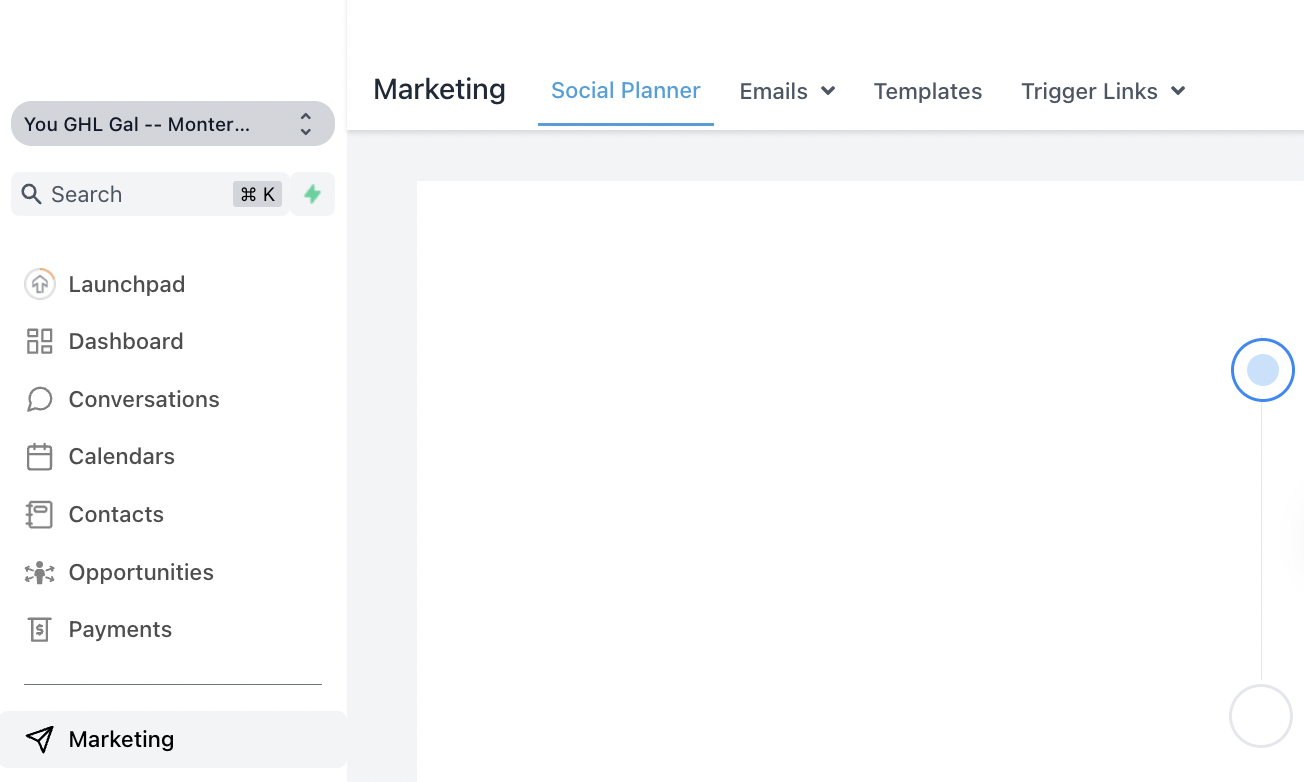 Automation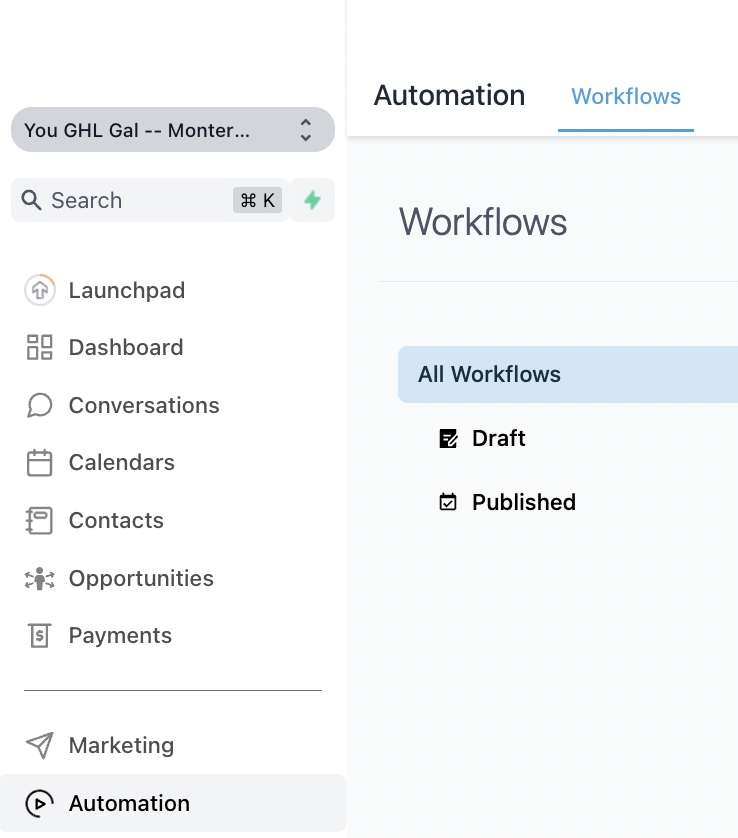 Sites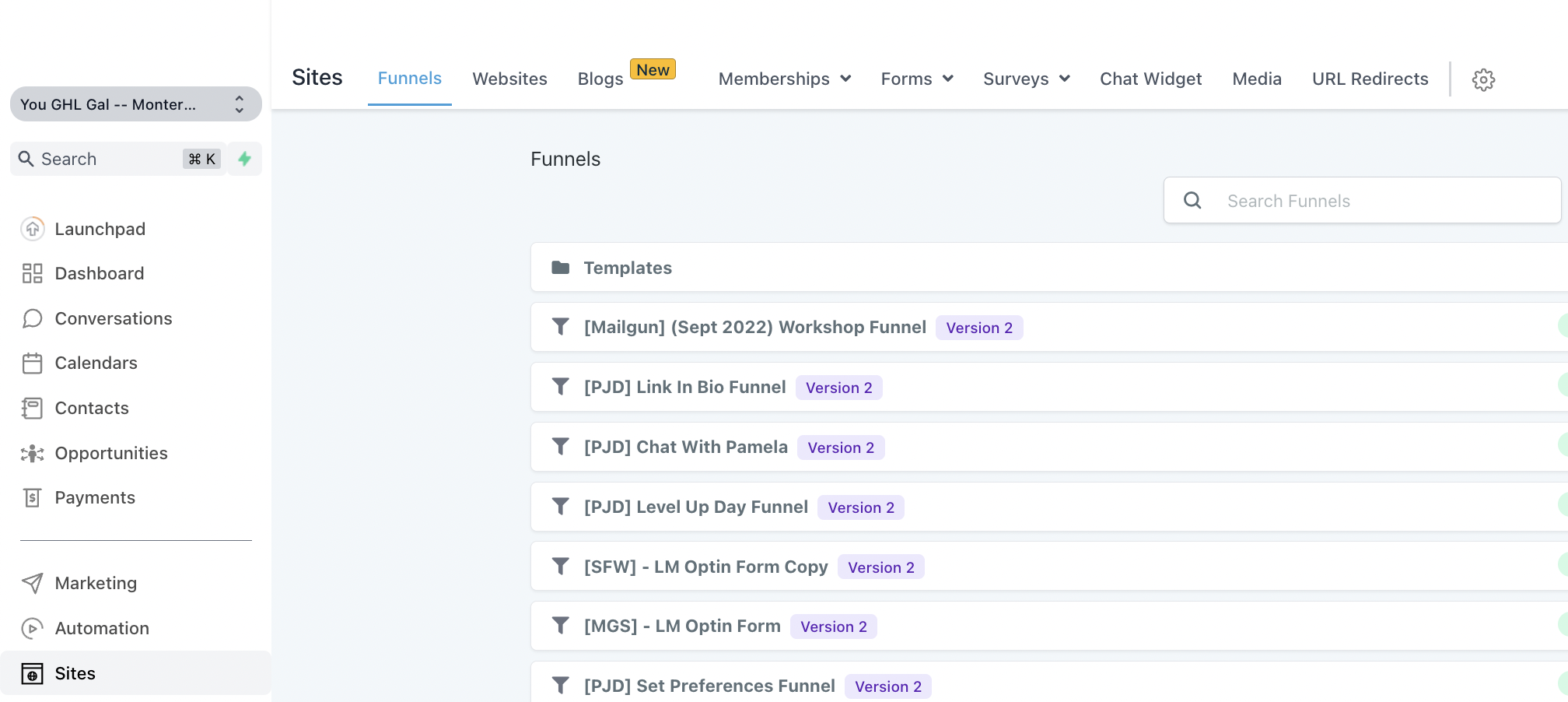 Reputation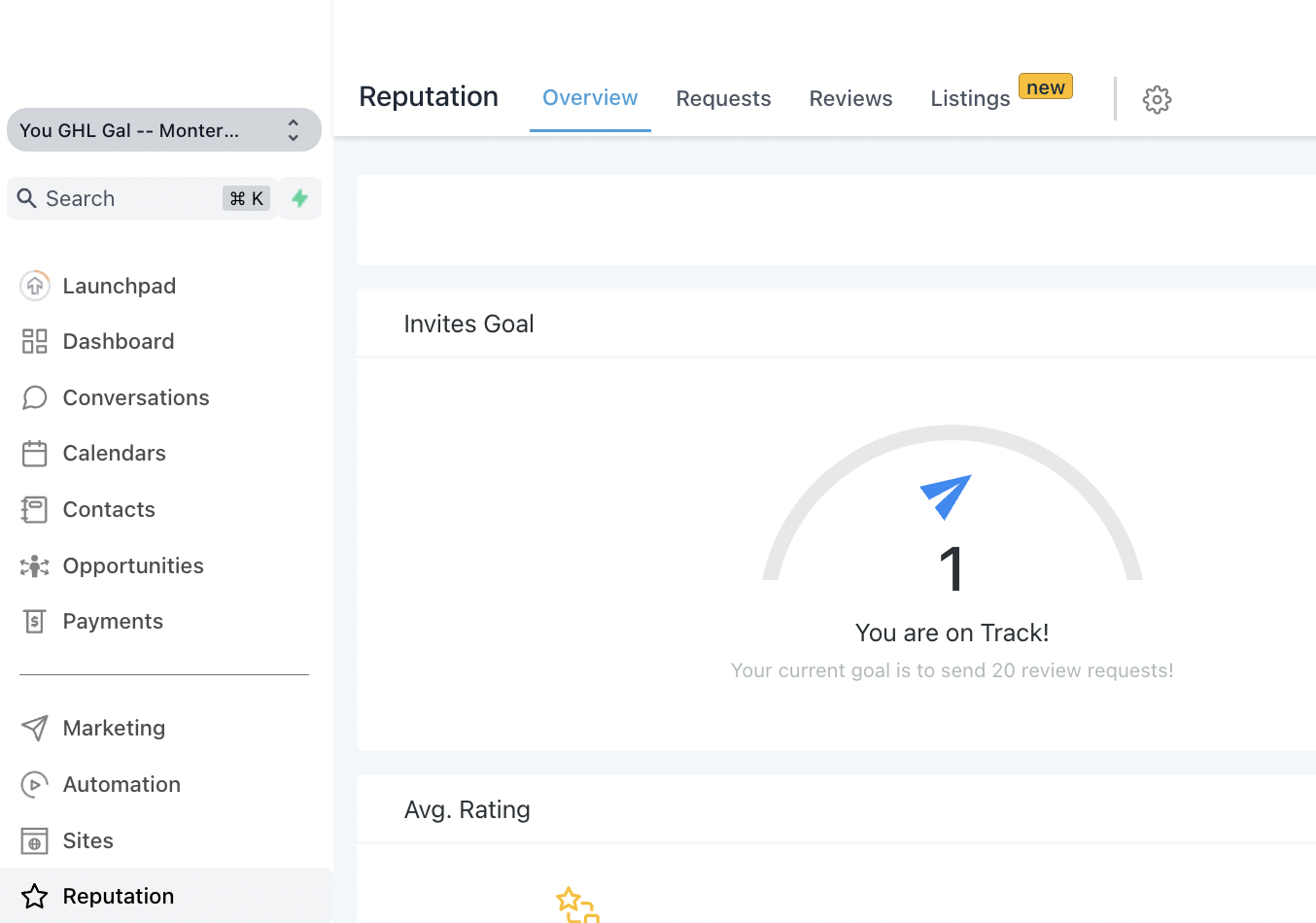 Reporting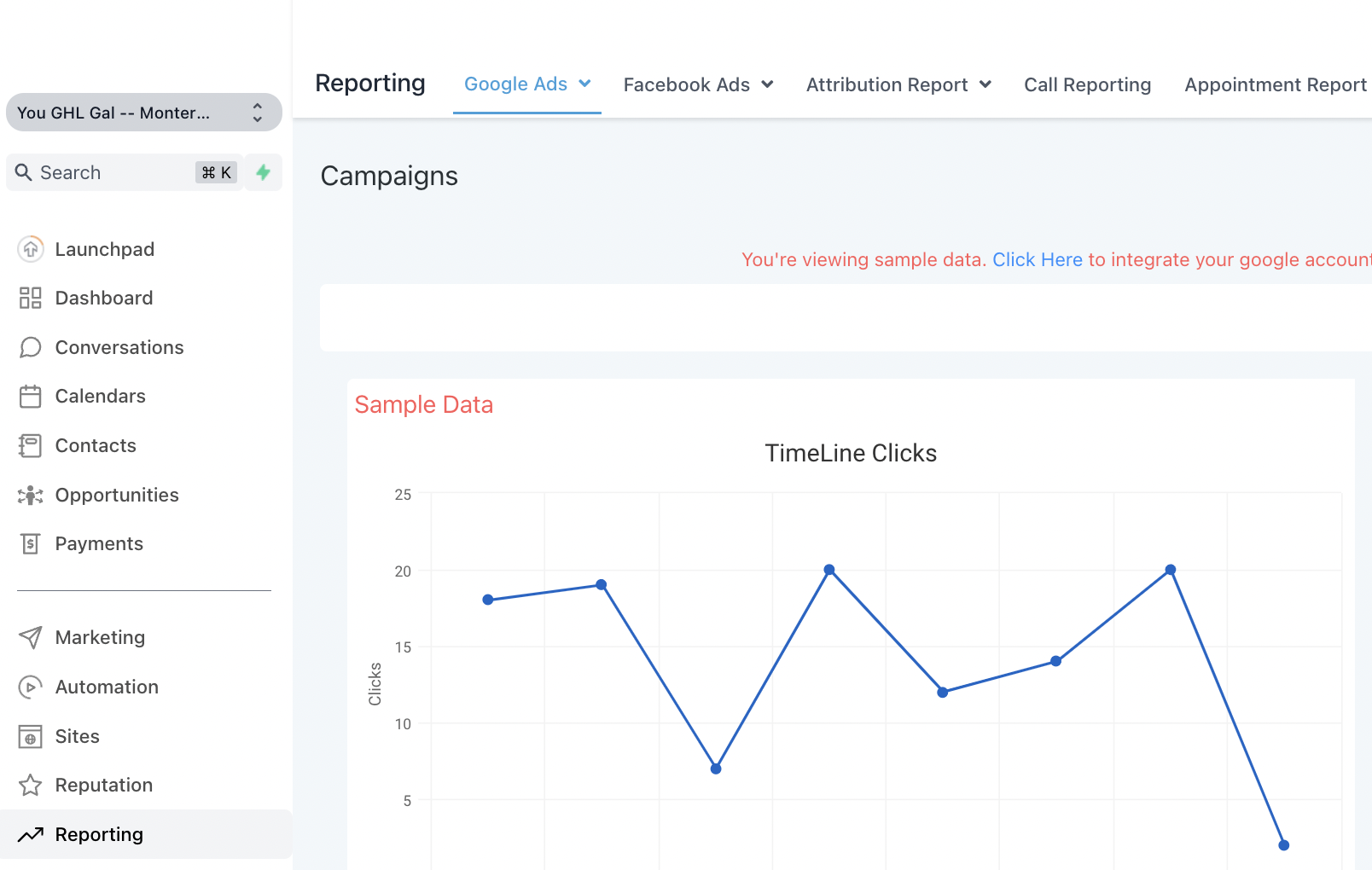 In High Level, you have the capability to do the following:
Build funnels + websites

Send emails

Send text messages

In-page Chat Widget

Contact people through FB Messenger™

Send voicemails

Call people

Create advanced triggers and automations based on what users do on your pages and with your messages

Has a calendar scheduler

Gets reviews from your customers

Has a fully built-out membership area with native video hosting included

Creates sales pipelines

Has sub-users

Has task functionality built-in so that when a customer does a certain action, it assigns a task to one of your sub-users.

HTML-Formatted Designed Email Newsletter Builder

Pay plan limiter on pay plans

Schedule social posts
This is a screenshot of the different communication abilities within GoHighLevel.
These create unified communication with one app so you don't lose, drop, or stall out leads.
Email

Text

Facebook/Instagram DM

GMB

Webchat

Voice Mail

Call

GMB Message

Webhook
Go High Level CRM vs Clickfunnels Contacts
The capabilities inside the High Level CRM are HUGE.
I have a screenshot below of a mock client and it does not even begin to show the capabilities.
Some of the highlights of what is possible within HighLevel's CRM are:
Tasks

Notes

Offers

Tags

Calendar

Appointments

Opportunities

Pipelines

Offers

Send SMS

Send Email

Form Submissions

Active Workflows

All places within High Level the client has visited and when

Assign to Team Members

Add remove from products and offers

Set to DND

So much more…
In comparison, you can see the contact details and what is available to you as a user of Clickfunnels is very limited.
CREATING OPPORTUNITIES AND TURNING THEM INTO PIPELINES IN HIGHLEVEL.
Being able to track leads and clients through your sales process is so sexy. In the HighLevel CRM opportunities and pipelines are native.
Meaning no outside connections to other apps and the ability to see your #s at a glance allows you an accurate snapshot of the state of your business.
WHAT… the power could make one dizzy!
One more thing we need to take a quick look at is Workflows in The High Level CRM.
Before we jump into the funnel building part of Go High Level and Clickfunnels I want to show you the email marketing side of High Level.
Also, with Workflows, I can start actions and move information within the app easily without worrying about API/integrations being disconnected ensuring my leads and clients do not fall through the cracks or stall out in inefficient systems.
I have many more posts about the email service provider side of Go High Level but this gives you a good idea of what is possible.
Truth
This has not been an apples-to-apples comparison so far as High Level has so many more capabilities but you would think that with Clickfunnels being THE funnel builder app they would win in this next category….
But…
Breaking Down The The Funnel Editor In High Level And Clickfunnels
At first glance, the High Level funnel editor looks very similar to the Clickfunnels editor.
I break down the functionality more in the YouTube video above.
One of the things that I found with the Clickfunnels funnel editor 2 years ago was that it was glitchy – glitchy in the sense that it would jump around when clicking, sometimes the settings tab opened, and sometimes it would not.
I found this to still be the same.
Also, in Clickfunnels I noticed there were no additional elements or changes to the way the sections, rows, and elements could be manipulated without using CSS code.
I found High Level to be the opposite.
In the settings for each section, row, column, and element there is much more flexibility available to me as a funnel builder/designer.
First, the columns are easily accessible (they are a light purple in color when hovered over).
In High Level, I am also able to add many more elements to the funnels because things like calendars, forms, etc are native to the app.
Clickfunnels does not have the capability to start or stop actions when an action is taken or not from places like Facebook, Instagram, Web Chat, Google My Business Chat, email, and calendar booking.
The ability to tag leads and clients along with moving them through a pipeline allows us to know at a glance where they are in our client system.
You are able to communicate with leads and clients in one place ensuring things don't get dropped.
It is just a funnel builder. and This is no longer enough to manage a business online.
Comparing The Membership Area in High Level And Clickfunnels
High Level has unlimited membership areas and courses included. You can create as many products and offers as you want and you have the ability to connect the products and offers to a single contact quickly or to a funnel without having to rebuild the membership login and member's area each time.
High Level looks and functions a lot like Kajabi.
You can upload all files and videos to the editor natively.
All areas, including the member's area, are easily customizable.
Within the Clickfunnels editor, you have to build and attach the member's login and member's area to each funnel – you can not duplicate.
You also have to use Vimeo or YouTube, an outside video host for your videos.
Let's Settle The Misconception that Clickfunnels has more "Templates"
I heard this so much I was excited to see what new templates they had.
I was disappointed, as there have been no new templates added since I was there 2 years ago.
I found many to be outdated and even the Funnel Marketplace had not changed.
Where Clickfunnels does a great job is in laying out the funnels by funnel type.
Go High Level has amazing templates as well and are categorized by industry - 61 different industries.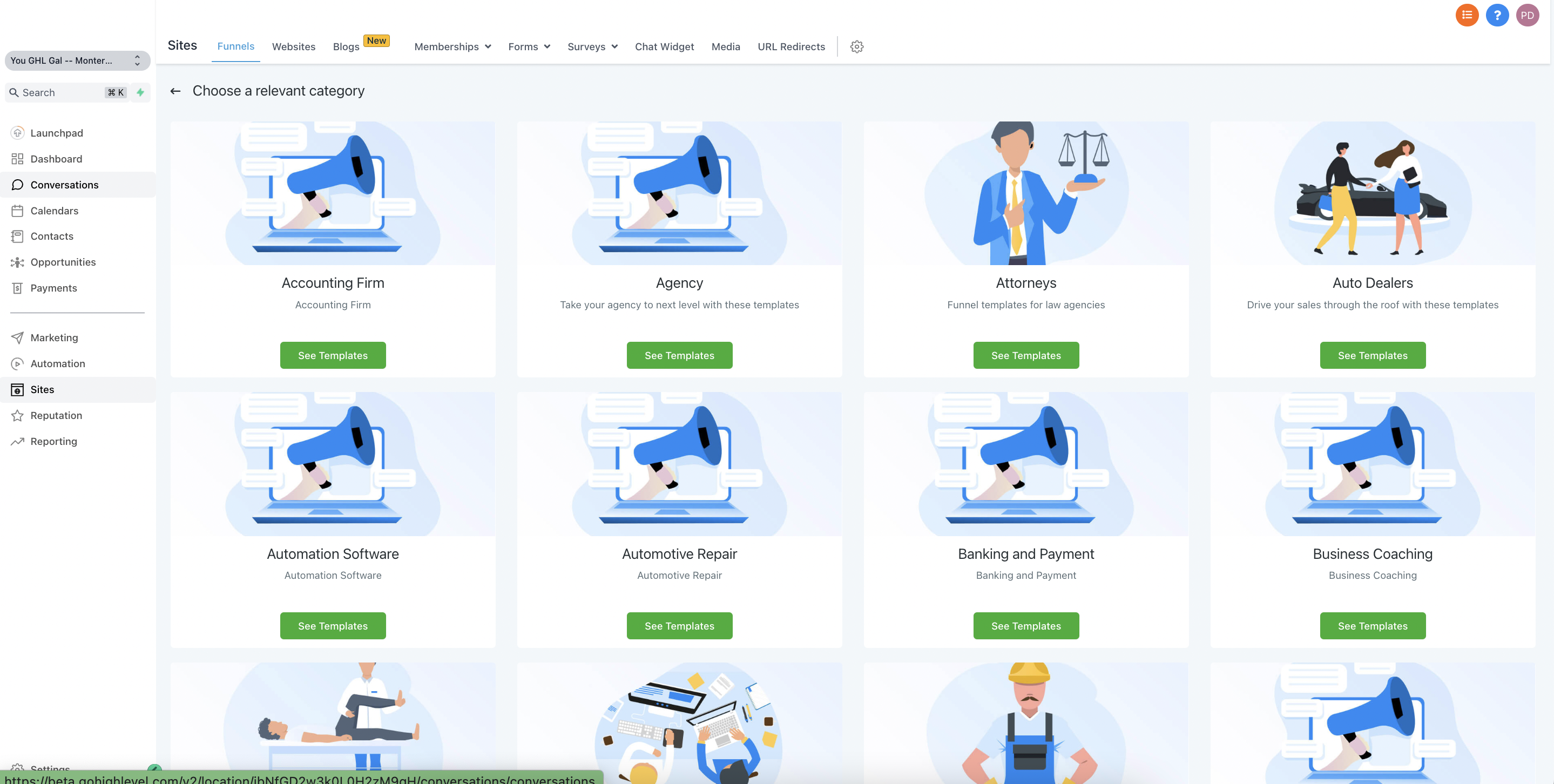 And High Level Has Snapshots – Clickfunnels Does Not
What are snapshots you ask….
One of the biggest differences between Clickfunnels and High Level with regards to temples is that High Level will allow you to build out a whole "business in a box" that includes funnel(s), membership(s), website(s), form(s), calendar(s), workflow(s), email(s) and drop it into another account.
You can create a specialized system unique to your business or your program and drop it into people's accounts.
This allows you to work in one system keeping all your clients in the same place working in and on the same software making support and the ability to utilize your system so much easier.
The Difference Between HighLevel and Clickfunnels As A Tool To Build Your Online Business
I wanted to drill down on the system that both Clickfunnels and High Level use to help you build your business.
Clickfunnels' System Is Laid Out In Step By Step Funnel Building Blocks
STEP #1: Pick Which Type Of Funnel You Want To Use For Your Business.

STEP #2: Adjust Your Funnel To Be Exactly The Way You Want! (Add, Move, Delete Pages, Add Membership Sites, And More!)

STEP #3: Customize The Look And Feel Of Your Pages…

STEP #4: Capturing Leads Inside Of ClickFunnels

STEP #5: Adding Your Products Into ClickFunnels

STEP #6: Setting Up Split Tests To Increase Your Conversions!

STEP #7: Make Your Funnel LIVE!

STEP #8: Track Your Stats!
Now they do have Follow Up Funnels that will allow for email and text but they do not layout in the steps above a full lead/client system.
I think this leads people to believe they're "One Funnel Away" mantra as they present funnels as perhaps easier than they are to build, maintain and get them to work.
I was hoping to have found more updates in the Clickfunnels editor but there were not.
This list above is what they do and all they do.
In today's online landscape, this is not enough.
HIGH LEVEL, ON THE OTHER HAND, WILL ALLOW YOU TO CAPTURE, NURTURE, CLOSE, FULFILL, AND AUTOMATE YOUR BUSINESS.
HighLevel Is Everything Your Agency Needs To Succeed
They state: We bring all the things you need to solve your digital agency problems in one place.
This Is Where Clickfunnels Stops And Go High Level Really Picks Up
HighLevel is the first-ever all-in-one platform that will give you the tools, support, and resources you need to succeed with your agency.
1. CAPTURE
Capture leads using their landing pages, surveys, forms, calendars, an inbound phone system & more!
CREATE FULL WEBSITES, FUNNELS & LANDING PAGES
The intuitive platform allows you to create full-featured websites with custom menus. Create high-performing and captivating landing pages all in one place!
DRAG & DROP SURVEYS AND FORMS
Built right in is the ability to capture leads through surveys and capture forms. You can integrate directly with their page builder or embed them on your own sites.
ONLINE APPOINTMENT SCHEDULING
The major step for many businesses is to capture appointments and request appointments. They've built a calendar application within High Level so you can capture the appointment all in one straightforward flow.
INBOUND MESSAGING
Clients are contacting businesses via chat and web chat. It is imperative to be reachable and able to reply to the lead as quickly and efficiently as possible. With High Level, all communication is in one place and you can automate replies.
2. NURTURE
Automatically message leads via voicemail, ringless calls, SMS, emails, FB Messenger & more!
The backbone of High Level is what you are able to accomplish after you capture the lead.
EASILY CUSTOMIZE YOUR FOLLOW-UP CAMPAIGNS
Their multi-channel follow-up campaigns allow you to automate follow-ups and capture engaged responses from your leads.
CREATE MULTI-CHANNEL CAMPAIGNS
High Level allows you to connect with your leads through Phone Connect, Voicemail Drops, SMS/MMS, Emails, Facebook Messenger, and Instagram DM.
TWO-WAY COMMUNICATION ON ANY DEVICE
Meet your client where they are at. Their full-featured mobile app also allows you to communicate with your leads on all devices.
3. CLOSE
Use their built-in tools to sell your services, schedule appointments, collect payments, track progress, and track analytics!
MANAGE YOUR WORKFLOW AND PIPELINE
With their built-in Pipeline Management feature, you can keep track of where the leads are and what stage they are at in the sales funnels.
SELL YOUR PRODUCTS AND SERVICES
The full sales funnel builder allows you to drive traffic to your offers allowing you to convert your visitors into leads and then clients.
COLLECT CUSTOMER PAYMENTS
High Level integrates directly with Stripe and PayPal so you can collect payments on websites, funnels, and even when someone books an appointment. They also have Text To Pay.
ALL THE ANALYTICS & REPORTS IN ONE PLACE
The dashboard keeps an overview of where the leads are and how much money has been generated in each phase.
4. AUTOMATE
Automatically book leads and prospects to your calendar without lifting a finger. Set up automatic replies and follow-ups to inquiries and sales. Move prospects and clients through your sales process seamlessly.
AUTOMATED NURTURE CONVERSATIONS
Create text conversations with the goal of placing booked appointments on calendars WITHOUT any human interaction.
FULL CUSTOMIZATION OF MESSAGING
Use their campaign builder to customize the messaging. Reputation management is built-in with the ability to request, manage, and display Google My Business reviews.
ARTIFICIAL INTELLIGENCE BUILT-IN
High Level allows you to leverage AI (Artificial Intelligence) and machine learning to manage many conversations.
5. FULFILL
Create a thriving community for your agency or for your clients by using their built-in membership platform.
FULL-FEATURED COURSE MANAGEMENT
Build full courses with unlimited video hosting and unlimited users.
OFFER FREE AND PAID COURSES
With their full platform, you can sell and deliver your courses or offer courses with their all-in-one platform!
UNLIMITED USAGE!
High Level offers unlimited users, offers, and products for your courses. You can create courses for your clients or for your own agency!
6. SUPPORT
ONE SUPPORT TEAM
Have you ever been bounced from one app to another's support–each blaming the other and… neither solving the problem?
High Level has a large dev team working on building the best software available.
7. TEMPLATES
CREATE YOUR OWN CUSTOMIZED TEMPLATES
You can create company-branded templates for almost every function of your business, saving time and increasing productivity.
Also, if you have a signature system you teach your clients–imagine the possibilities of creating everything they need like a funnel, email sequence, and workflows to support them and you just drop it into your client's account…
These are called "snapshots"–streamlining your processes and aiding in client satisfaction.
BOOM!
Up next, the one complaint I hear over and over…
Clickfunnels vs GoHighLevel Support
First up, Clickfunnels. I was quite surprised when I started clicking around and saw the messaging in the chat widget.
The feel of this messaging is "not-accessible", "you're on your own, Buddy" and this is why many people are leaving the platform or not getting started with it.
NOW LET'S LOOK AT GO HIGH LEVEL'S SUPPORT.
I think, at least twice a day, I can speak to someone live, share a screen and get the answers I need.
Oh and speakwith.us/success is an open Zoom room available
High Level, hands down, the winner here.
The 3 Additional Reasons I Switched From Clickfunnels To HighLevel
#1 – Ethics
First, let's take a look at a dictionary definition of ethics: moral principles that govern a person's behavior or the conducting of an activity.
Everyone has a different set of moral principles they make decisions from and that guide behavior.
The famous quote from Jim Rohn states:
"You are the average of the five people you spend the most time with."
The Clickfunnels crowd is not my peeps. The "BRO" marketing style is not the way I want to market my business.
Also, I think we as marketers need to understand the power marketing has on people and to be sure we do not take that power away from others.
Trust Me, I'm Lying is an amazing book to read to truly understand that everything is marketing. The media is lying to us.
So, I tell you all of this to say this: make sure you can stand behind both the software you use and the companies you align with because they will affect your brand as well.
#2 – Technology
I'll be the first one to admit that I do not totally understand how software is built!
But I have used a lot of software and I know when something is working and when it is not.
I know when a piece of software is well thought out regarding usability and function.
I also know when it is not!
When Clickfunnels first came out there was no doubt it was a game-changer.
They solved a real problem in the internet marketing world – providing you and me, average people, the ability to create and update pages on the internet quickly, efficiently, and at a low cost.
They understood that to sell effectively online that companies needed to use sales funnels instead of websites and they revolutionized a whole industry.
This is no small feat.
I was sold from the moment I saw the software – thinking where have you been all my life.
So what changed…..
It didn't happen overnight but slowly I started to see cracks in the marketing and the software. Playing with people's emotions and not providing the salt to back them up is not fair.
Second, I did not see any innovation for a year at a time, and when there was it was an upsell.
Time to move on…
#3 – The Ability To Grow With The Software
Bottom line:
If you only want to learn how to market – stay with Clickfunnels.
If you want to build, grow and scale a business, High Level is your place.
You need both great marketing and great tools.
You can get great marketing outside of the app you use.
But as for tools, High Level has my vote.
HighLevel is the first-ever all-in-one platform that will give you the tools, support, and resources you need to succeed with your agency.
A Special Offer When You Join Me on High Level
If you join me on High Level I take you under my wing and share all I know about High Level and marketing to help you win!

You automatically become a member of The SaaS Suite and remain a member as long as you are an affiliate of mine.
Along with the boring bonuses…
Trainings, Snapshots, Onboarding, and a Facebook Community.
Go High Level 30-Day Trial for the Agency Unlimited $297 Plan
For Those Of You That Skip To The End To Get The Bottom Line
CLICKFUNNELS = LIPSTICK ON A PIG
HIGH LEVEL = THE UNDERRATED DARK HORSE
It is best to run your business on a piece of software that is constantly updating and staying on top of the trends, such as chat and AI.
You need to not be "hooked" by the marketing & promises alone. You need to look at the back end.
You can also take a look at my numerous YouTube videos on High Level to see more of the functioning of the app and the back end.
Let's be clear, I am so grateful for Clickfunnels and all that it has done for me.
It changed the whole trajectory of my life and business and today I have limitless possibilities available to me as a result.
I learned most of what I know about marketing from or through Clickfunnels.
But, it became clear that Clickfunnels was no longer the community nor the software for me and my business.
I tried to stay – I really did but I found the platform was no longer effective for myself or my clients…. So I did the only thing that made sense….
I made the move to High Level.
There is so much more about High Level I want to share with you.
We are just getting started around here. I will continue to demonstrate the platform, how to use it, and how to grow your online business.
Join Me!
Blog Post Out
The Fine Print: Some of my links are sponsored or affiliated and I may make a commission when you buy at no additional cost to you ✨